---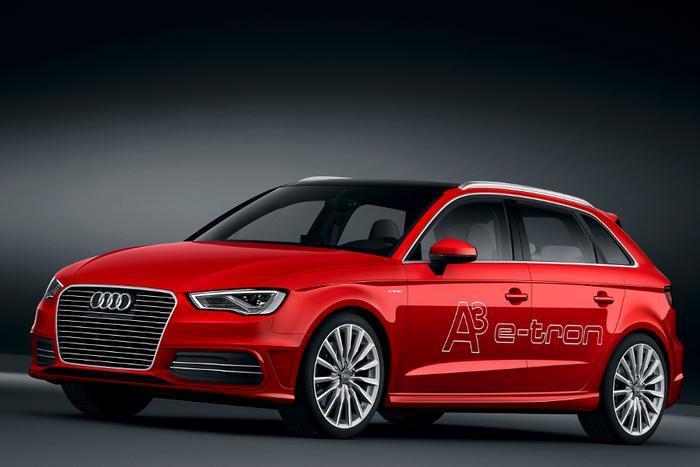 Audi and its corporate parent Volkswagen have been slow to embrace electric cars but Audi says it will roll out at least four plug-in hybrids in 2015, although it's not clear if all of them will make it to the U.S.
It's perhaps partly in answer to BMW, which is launching an aggressive roll-out of its "i" line of electric cars. Audi CEO Rupert Stadler said the first model -- the A3 Sportback E-tron -- will be followed by other plug-in hybrids.
Plug-in hybrids are the best solution for low-emission vehicles because they don't face the same range constraints as battery-powered vehicles, Stadler said, according to Automotive News. Plug-in hybrids run on battery power with zero emissions and switch to a conventional internal combustion engine when the battery's charge is exhauster.
The A3 Sportback E-tron is expected to have a range of about 30 miles on a single charge while the BMW i3 is claiming a 100-mile range. The A3's total range -- including the internal combustion engine -- is expected to be around 300 miles.
"Plug-in hybrids are electric vehicles for everyday driving, exactly what our customers are asking for," Stadler said.
Existing platforms
While BMW has designed all-new models for its electric fleet, Audi will simply retrofit the plug-in hybrid capability into existing models, including the A3 Sportwagon, Q7 and A6.
Using existing body styles gives Audi the flexibility to build a lot of cars if demand warrants, not so many if it doesn't. Mercedes is pursuing a similar strategy.
Whether that works for a hybrid that looks just like the gas model but costs $20,000 more remains to be seen. Many hybrid purchasers want to be seen as environmentally responsible, marketers say, so a "stealth" hybrid may not be as appealing as something that's immediately recognizable.
Some have suggested that's part of the reason the Chevrolet Volt hasn't sold as well as expected. While it's not identical to any other Chevrolet model, it's not as easily identified as, say, a Toyota Prius.
---