---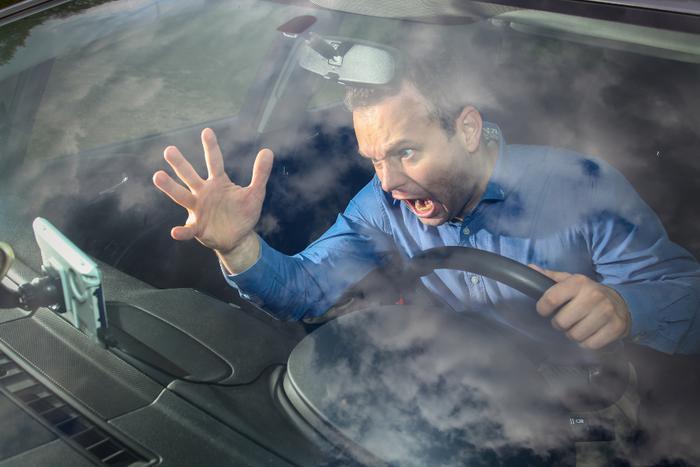 Today's driving tip: Watch the road!
When you are driving, it is very important to look where you're going, because even if you have the most reliable, advanced and up-to-date GPS mapping software in the world, it still only notices permanent landmarks and is completely incapable of seeing things like the gigantic bright-yellow parked schoolbus you're about to crash into because you ignored the "look where you're going" safety rule in lieu of gazing at your GPS instead.
No exaggeration. It actually happened in Oklahoma this week. Police in the Oklahoma City suburb of Warr Acres said that a driver distracted by his GPS drove into a middle-school parking lot, where he crashed into a parked schoolbus some time around 1:45 in the morning.
Nobody was hurt, and police say they will not give the unidentified driver a ticket, since the accident didn't happen on a public street.
Spilled its load
The other GPS driver who made the news this week doesn't even have that consolation, though. Gerald Valeanu, a semi-truck operator from Milwaukee, is now facing several charges (including driving in a prohibited area) in Dubuque County, Iowa, after an incident last month where police say he drove his vehicle onto the Heritage Springs recreation trail, after his GPS told him it was a thoroughfare of some sort.
When news station KCRG-9 reported the incident it said, in a bit of understatement, "The soft-crushed limestone that lines the Heritage Trail could not support the weight of a 53-foot semi."
Indeed, to the untrained eye, the limestone-lined Heritage Trail looks remarkably similar to a dirt walking path, which can easily handle the weight of most pedestrians but not Valeanu's truck, which sunk into the soft earth and rolled over onto its side, spilling its load onto some Iowa farmland.
Valeanu passed a field-sobriety test at the scene, which is not surprising: there's no shortage of anecdotes involving perfectly sober drivers who still caused ridiculously stupid accidents because they paid more attention to their GPS than to actual road conditions.
Remember the Pennsylvania man who blamed GPS after he drove his car into the Susquehanna River? Or the Washington State woman who blamed GPS after she drove her SUV down a boat launch into a lake? The Oregon couple lost in the wilderness for days after they believed their GPS when it told them an unpaved logging trail was actually the Interstate? Stone-cold sober, every last one of them.
Sobrety is important while driving but it's not the only thing that matters: you also need to remember that, no matter what your GPS tells you, you must always keep an eye on the road conditions. And make sure you're actually on a road.
---