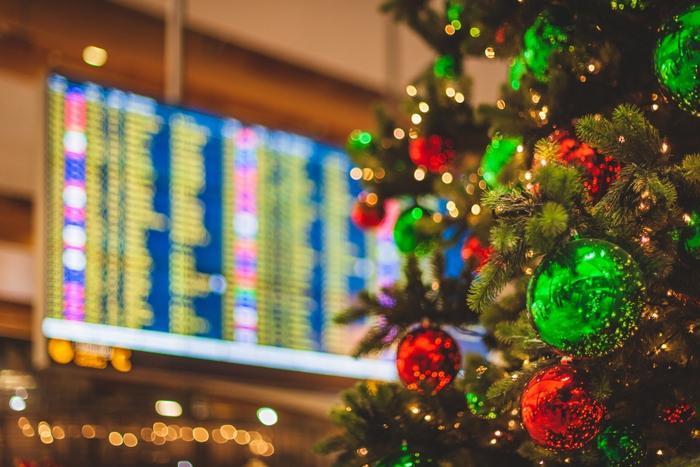 Let's start with this perspective: you and the entire population of Iraq, Poland, Spain, or Canada all going somewhere at the same time. That sounds like a lot of people, right? Well, that's what it's going to be like for air travelers this holiday season.
Airlines for America (A4A), a trade association and lobbying group that represents major North American airlines, is forecasting that 47.5 million consumers will take to the air on U.S.-based airlines between December 19 and January 5, 2020.
A4A projects that as many as 3 million passengers will board airplanes each day in that 18-day span, an increase of 3 percent from this time last year.
Don't worry, there'll be plenty of seats
Travelers shouldn't be quick to throw the airlines any shade because they believe that the flights are going to be oversold and people are going to get bumped right and left. U.S. airlines have probably taken enough heat about that over their collective greed, and many companies have decided it's time to flip the scenario. To jumpstart that flip, airlines will offer 88,000 additional seats and an extra 884 flights per day.
"Throughout this year we've seen steady gains in air travel demand, and this winter will be no exception," said John Heimlich, Vice President and Chief Economist for Airlines for America. "Buoyed by a healthy economy and plentiful, affordable air service, travelers once again are expected to take to the skies in record numbers."
And shorter times going through security, too
The Transportation Security Administration (TSA) is also on the case. On December 1, the busiest day during the recent Thanksgiving break -- not to mention the busiest day ever -- nearly 3 million travelers passed through TSA checkpoints across the U.S. 
Despite that squeeze, 99.8 percent of all passengers skated through security in less than 30 minutes, and 99.2 percent of passengers who were in a TSA Pre✓® lane waited less than 10 minutes. 
Haven't booked your flight, yet?
If you're kvetching about the cost of flying over the holidays, there are still some decent prices to be had. When ConsumerAffairs checked GoogleFlights for the days that A4A projects as the lightest travel days -- Christmas Eve, Christmas Day, and New Year's Eve -- we found that sample routes from St. Louis to San Diego, Savannah to Detroit, Cleveland to Dallas, Seattle to Indianapolis, and Denver to Sarasota were as much as 114 percent lower than the other travel days A4A tracked. Your own personal hither and yon might have some good fares on those days, as well.
And, while U.S. airlines are still trying to get the same love the international carriers do, don't forget that there are things you can do on your end to make life easier the next time you fly regardless of what airline you're on. ConsumerAffairs has put together a guide on what add-ons might make sense the next time you buy an airline ticket. A few more dollars for checked bags and more legroom might be worth the investment.