---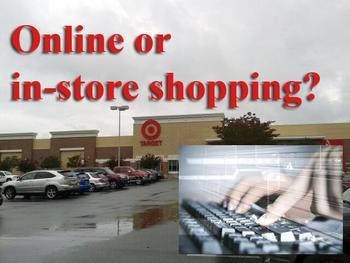 You may shop at stores and online, but chances are you prefer one over the other. Which is it -- or have you even thought about it?
Some who have thought about it are the people at Continuum, a global consulting firm. They set out to interview consumers across the U.S. and uncover their reasons for shopping in-store or online. Their findings, they admit, were something of a surprise.
Convenience rules
First, a lot of consumers still prefer to shop in stores. Of those, 40 percent said it's for convenience. Another 22 percent said they don't trust the quality online. They want to see it in a store before buying it.
About 17 percent mentioned that they don't want to pay for shipping, or deal with online returns. Another 17 percent said they feel they get a better price in a store and four percent said they simply prefer to interact with people. That last one is a surprise, considering all the complaints to ConsumerAffairs about dealing with store personnel.
Showrooming fears misplaced?
The big surprise, according to Continuum, is that price is not the biggest reason for choosing a shopping venue. Retailers are convinced that's the overriding consideration and explains their near panic over "showrooming," the practice of consumers finding something they want in a store, then using their smartphones to find a better price online.
Why do people prefer to shop online? These consumers also cite convenience, believing it is more convenient to order the item than go look for it in a store. Forty-three percent cited convenience as their number one reason while another 29 percent said it's easier to find what they are looking for online than in a store.
Twenty-five percent believe they will get a better price online and three percent said they wanted to avoid interaction with store employees. The only surprise there is that the number isn't larger.
Consumers like to 'showroom'
Retailers may hate showrooming but their efforts to fight it may be doomed to failure. It seems to be something shoppers enjoy, with 70 percent saying they found browsing in stores and then finding the product cheaper online was a satisfying experience.
And it's clear, from reviews posted at ConsumerAffairs, that many in-store shoppers find various aspects of the experience frustrating.
Frustrations
"Yesterday I called the Target in Allen Park, Michigan for a specific item," Linda, of Southgate, Mich., wrote in a ConsumerAffairs post. "I was told they had it and would hold for me until following day. They said they would put my name on the item and hold it at the service desk. I was excited because it was what my grandson wanted for his birthday, The following day I went to this Target and nothing was left for me. Of course I was very disappointed and ended up with nothing. I made a special trip and it was a waste of time."
However, even online shoppers can run into the same sort of problems. Mike, of Concord, N.C., wrote to ConsumerAffairs that he purchased a tricycle online at Walmart.com and arranged to have it picked up at another store. It should have been easy, or so he thought.
"After the order it was okayed, in stock - no worry the order was done, " he wrote. "I checked my e-mail at a later time and Walmart has canceled my order, saying item out of stock. I would think with the great computer systems that they wound not have taken my order if they where out of stock with this item."
Whether it is serving in-store or online consumers, Continuum concludes retailers can do a better job to satisfy their customers.
"There is clearly a benefit for retailers to concentrate not only on price but also how they are designing as holistic an experience as possible for their customers to be able to efficiently interact with their brand whether it is in-person or online," said Craig LaRosa, Principal of Continuum's Service Design group. "A one-size-fits-all approach does not work when it comes to designing a great customer experience or service."
---