---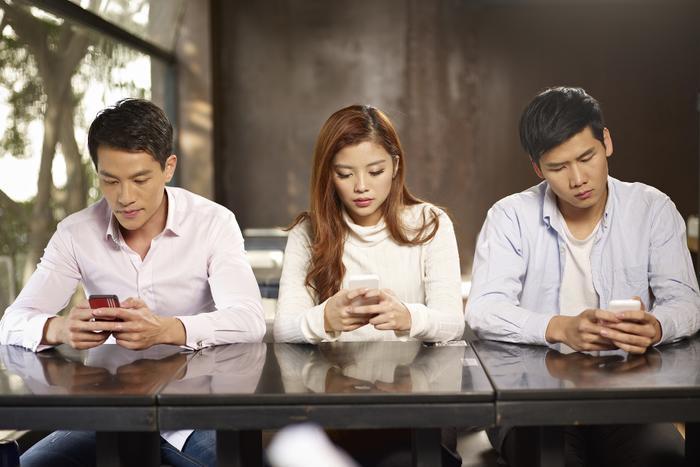 Since cellphones, then smartphones, became ubiquitous in modern life, we have become highly dependent on them - not to make calls so much as connect to the Internet.
These devices, after all, are small computers in our pockets with vastly more processing power than the computers that sent men to the moon in 1969. And we use them a lot.
Bank of America's  2015 Trends in Consumer Mobility Report found 71% of consumers sleep with their smartphones and 35% say it is the first thing they think of when they wake up in the morning.
The report breaks down usage by age and finds younger Millennials, who grew up with smartphone technology, are the most dependent consumers.
Mobile addicts
A report from Flurry, a mobile analytics firm, says for a growing number of consumers, mobile technology dependence has crossed over into addiction, and that it's a global trend.
Regular users, consumers who admit to accessing apps between once and 16 times daily, grew from 784 million to 985 million in just a year, a 25% increase. So-called super users, consumers who use apps between 16 and 60 times daily, grew even more in that same period, from 440 million to 590 million, a 34% increase.
According to Flurry, mobile addicts are consumers who use apps 60 times or more per day.
"We saw this group is growing at the fastest rate, from 176 million in Q2 2014 to a whopping 280 million in Q2 2015, a 59% increase," the company said.
Facebook and Instagram
What are mobile addicts using these powerful mini computers to do? Unfortunately, they're not looking for a cure for cancer. The Flurry research shows addicts are most likely to be using messaging and social apps to communicate with friends. In other words, to entertain themselves.
The research shows mobile addicts use messaging apps nearly seven times more than the average mobile device user.
Mobile commerce surging too
While posting content on social media is the main activity, plenty of consumers are using their mobile devices to purchase products.
Coupofy.com, a database of online coupon codes, reports an explosive growth in redemption of mobile coupons. It says in 2014 there were 560 million mobile coupon users who redeemed 16 billion coupons. The company predicts that will rise to 1.05 billion users and 31 billion coupons by 2019.
Smartphones have been responsible for the phenomenon of "showrooming," when consumers find a product they want in a store, they use their phone to shop for the best price and order it. Coupofy's data suggests this trend will continue to grow.
Regular ecommerce is projected to grow by 13% between 2013 and 2016, but the company says mobile commerce is expected to surge by 42%. A lot of it will occur outside the U.S.
Denmark, Norway, Sweden, China, and Spain are leading this growth, the company says, with each seeing a rise of around 50% in mobile shopping popularity between the same time period.
They're catching up to emerging markets like India and Taiwan, which saw a 60% increase between 2012 and 2014 as mobile devices became more prevalent among their populations.
---