---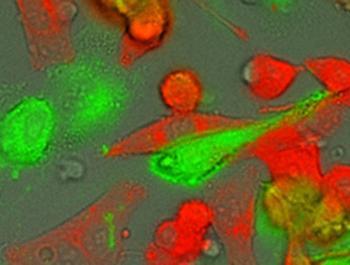 For decades medical researchers have embarked on what seemed an impossible mission – to find a cure for cancer. In recent months the mission has appeared a bit more realistic.
Scientists say the breakthrough has come about because of an entirely new approach to battling the dread disease. For years, physicians have treated cancer externally. They've bombarded cancer cells with radiation, poisoned them with chemicals and cut them away from the body with surgery.
The results have been mixed, at best. Cancer isn't as lethal as it once was but thousands of U.S. residents die from it each year. The National Institutes of Health (NIH) estimates there were 1.6 million new cancer cases in the U.S. in 2012 with 577,000 cancer deaths.
Arming the body's own defenses
The new approach uses the body's own immune system to attack and kill cancer cells.
Private researchers in Cambridge, England have been working with immunotherapy to treat cancer and say, to date, the results have been promising. Researchers working for Immunocore designed a therapy using the body's 'T-cells to find cancer cells and destroy them.
T-cells are a type of lymphocytes – a type of white blood cell – that plays a key role in regulating the body's immune system. On their own T-cells don't do a very good job of distinguishing between healthy or cancerous cells. The Immunocore system basically arms the body's T-cells with a guidance system that helps them target the cancer cells.
Other cancer research is being done at Stanford Medical Center, again focusing on using the body's own tools to destroy cancer. In this case it's a protein called CD47.
An override system
Actually, CD47 is the problem. It prevents the body from destroying cancer cells. Stanford scientists, however, have discovered an antibody that acts as an override, preventing the CD47 from protecting cancer cells.
The antibody allows immune cells within the body to hunt down and kill cancer cells. Researchers say not only is it effective, it is gentler on the patient than some of the current cancer therapies.
Stanford scientists say they plan to begin clinical trials involving cancer patients next years. In the video below, the researchers elaborate on their findings so far.
A decade of work
The Stanford researchers say they have been working on this approach to cancer treatment for at least a decade, after discovering a link between cancer cells and CD47 during a study of leukemia.
In fact, this approach is already being applied to leukemia treatment. ConsumerAffairs reported last December on an experimental treatment carried out at the University of Pennsylvania.
Doctors at the University of Pennsylvania medical school extracted T-cells from 12 leukemia patients, genetically engineered them to attack cancer cells, and injected them back into the patients. The clinical trial participants, all of whom had advanced cancers, included 10 adult patients with chronic lymphocytic leukemia and two children with acute lymphoblastic leukemia.
Two of the first three patients treated with the protocol remained healthy and in full remissions more than two years after their treatment, with the engineered cells still circulating in their bodies.
Will this kind of approach to treating leukemia prove effective with other types of cancers? Researchers at Immunocore believe it will. More importantly, so do some major drug companies, which have already signed on to support development of these treatments.
---