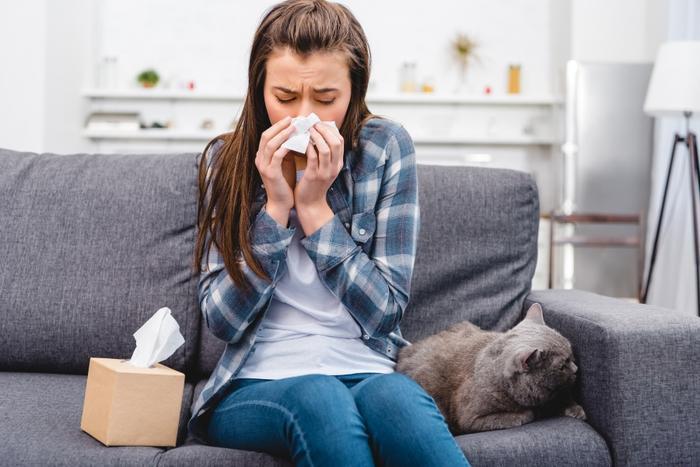 One catalyst of the fear that has gripped much of the world over the coronavirus (COVID-19) is the fact that the outbreak coincides with the flu season. People who think they're coming down with something might wonder whether it's a cold, the flu, or COVID-19.
Complicating this even more, we're entering into allergy season in much of the U.S. when pollen can trigger respiratory symptoms. But Dr. Henry Fishman, an immunology and allergy specialist practicing in Washington, DC, says there are clear distinctions.
"Allergies cause itchy eyes, stuffy nose, and sneezing," Fishman told ConsumerAffairs. "The coronavirus tends to cause more severe illness like a bad case of the flu. You get tired, run-down, achy, high fever, and shortness of breath. So the symptoms are a bit different."
Two basic concerns
It may be more difficult to tell COVID-19 from the common cold, which after all is a type of coronavirus. Cold symptoms include a stuffy nose, sore throat, cough, congestion, and sneezing.
People who get symptoms but aren't sure what's causing them should get tested as the public health system gears up to deal with the outbreak. Fishman says there are two basic concerns about the coronavirus.
"First, the death rate is two to three times higher than the seasonal flu," Fishman said. "If you have underlying major illnesses, you're more likely to die than someone who gets the average flu virus. Number two, there's a major concern about the impact on public health. If it spreads too widely, it could overwhelm the health system, and there won't be enough ICU beds or respirators."
But when it comes to getting the virus, Fishman says not everyone is the same. He says younger people are getting the disease less often and far less severely than older people. 
"They're doing much better with the illness than older folks who have an underlying health condition," he said.
Fishman may soon find himself at the front lines in the battle against the virus because many of his patients are among those who may be most vulnerable to COVID-19's more severe effects. 
"Many of the patients I take care of are concerned because they have immune difficulties or asthma, which is a chronic respiratory illness," Fishman said. "So those folks would be among the higher risk population that might have a more serious problem with the virus."
Advice for asthma patients
He's particularly concerned about patients suffering from asthma because it affects lung health. He urges patients with asthma to continue to seek medical care from their provider and not avoid the doctor's office.
"Your doctor's office is a fairly safe place so if you have appointments to maintain your lung health, you should keep them," Fishman said.
Fishman has practiced medicine for nearly four decades. In the early 1980s he treated AIDS patients before most people really understood the disease. He also provided care for his patients during the swine flu outbreak a decade ago. Then, as now, he says a lack of knowledge led to fear.
"With this virus we don't know what's going to happen, how many people it's going to affect and whether it's going to become seasonal or go away," he said. "That lack of knowledge can lead to fear."