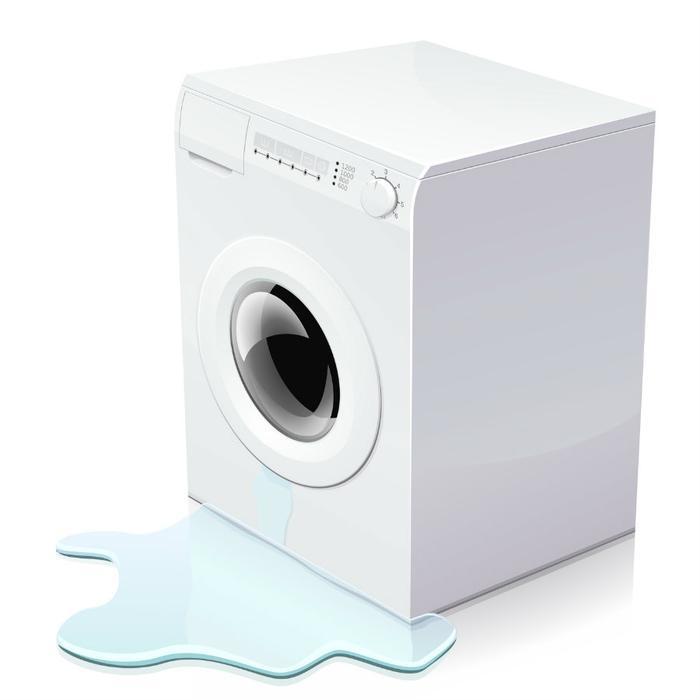 This week, in Newark, New Jersey, consumers filed an attempted class-action claim against Samsung, claiming that the company's washing machines (specifically top-load washers, in this most recent filing) are defective. Courthouse News reported that "Top-load washers by Samsung cause home flooding because the machine comes with a defective plastic cover for the drain pump, a class claims in Federal Court."
A similar class action lawsuit was filed in the summer of 2012, charging that many different models of Samsung washing machines "fail to perform as advertised," with flaws including a tendency to leak and cause flooding, inability to get clothes properly clean, premature failure of the water pump or other parts, and other things.
Last December, an Indiana family announced intentions to sue either Samsung or the retailer from whom they'd bought the Samsung high-capacity washer which they say flooded out their three-story home and caused an estimated $100,000 worth of damage.
Asked to comment on the complaints, a Samsung spokesperson said: "Samsung takes customer satisfaction very seriously. We urge any Samsung customers to contact us directly at 1-800-SAMSUNG with any product questions or concerns they may have."
Since 2007
Here at ConsumerAffairs, we've had consumers write in with similar complaints since at least 2007. In October of that year, Mike from Oregon said he'd bought a Samsung washer which flooded his laundry room twice; the store replaced it with another unit of the same model, and he "Had it for 2 weeks [before] it flooded the room again. This has been going on for 4 months. Floor has been wet, and leaking downstairs …."
More recently, Susan from British Columbia wrote on June 2 to complain that in the three years she's owned her Samsung washer, she's needed three repairs to the drain pump and it still won't work properly: "Had drain pump wire replaced 3 times (first time covered by warranty). Now it's the pump came loose from the bracket, sending water throughout the house. Cost of $212.75 not including Labour. Lucky no water damage to ceiling...."
That same day, Carla from Kentucky wrote to complain about the Samsung washer she'd bought new in March 2013: "The washer has already torn up. I have sopped up water out of laundry room floor three times. The hose keeps slipping off, and of course it's out of warranty. I will never purchase another Samsung product."
Several models
Similar complaints can be found among owners of several different Samsung models. On May 28 and 29, we got complaints from two different consumers in Texas, both reporting problems with Samsung washer model WA456DRHDWR.
First, Bonita from Highlands wrote that her "2-yr-old machine began to spin loudly & violently, shutting down & displaying dc code. … Calls to Samsung & 2 service visits unsuccessful. Spinning so violent the drain pump fell off & flooded the garage."
The next day, Jebediah from Houston told us "I bought the Samsung WA456DRHDWR 4.5 Cu. Ft. White Top Loader washer in 11/2012 and it broke within the first 30 days, leaking water all over the tile floor."
Ironically, other Samsung owners report the exact opposite problem: insufficient amounts of water in their machines. One such complaint came from Jane in South Carolina, who told us on May 28: "This washer is terrible. I bought it 8 months ago and it doesn't fill with water. It doesn't Clean your clothes. I'm on my 2nd washer. Don't waste your money on any Samsung washer dryer. They may have electronics down, but not washer dryer units. Stay away! Buyer beware!"
And Carolyn from Oregon said on June 2: "Machine is 3 yrs old. Won't spin out water. Getting PE error which is the clutch motor. Tried calling Samsung. They don't answer. The part is plastic according to the repairman. He even tried to call Samsung still no answer. Don't buy this."
The day before, Bertha from Baltimore told us that she bought a Samsung washer the previous summer and "It is the WORST purchase I ever made. This machine may conserve water and detergent but it does not come anywhere near cleaning your clothes. I am a retired person who does not get clothing dirty other than normal daily activity soil. I do no gardening, etc. that would create exceptional stains …. To get a really clean wash, I have to go to a Laundromat. Samsung should be forced to take this machine back and replace it with one that actually cleans clothes …."
House damage
Still, for all the downsides of having a washer that won't actually wash clothes, far more serious is the problem of washers flooding and potentially damaging the rest of the house. In April we heard from Renee in Belding, Michigan, who said this about her top-load washer model WA456DRHDSU/AA: "This is ludicrous that there was no recall on these expensive pieces of junk! …. This machine was just over 2 years old. This makes me sick! If there were a way to all work together and file a law suit, I am game! The lousy piece broke off and flooded my basement...."
And Ronald and Donna from Ocala, Florida, said this about the front-loading washer, model WF42H5200AF/A2, which they'd bought in September 2014: "Starting 12/14 we noticed water leaking from the washer & called for service. Feb. 2015 they came & we were told there was a flash bulletin from Samsung for a defective bellow clamp. … The clamp was replaced but we still had leakage." Two more service calls and two more replacements still didn't solve the problem.
Margaret from Bergen, New York wrote on April 14 with a long list of issues she's had with her model WA5471ABWX, which required four service calls in four years to replace a drain pump, two control panels and a display. Then:
To add insult to injury, the washing machine is now showing signs of rust around the bleach dispenser. … Samsung has deemed this a "cosmetic" issue and is unwilling to take responsibility for its substandard paint process. I am extremely disappointed with Samsung and will never purchase another product from them. Buyer beware, expensive does not equal quality. We learned this lesson the hard way!!!
Bonita's observation holds true for all things and all companies, not just washers from Samsung: expensive does not equal quality. At the same time, it's reasonable to expect that an expensive washer will work at least as well as a more reasonably priced one.