---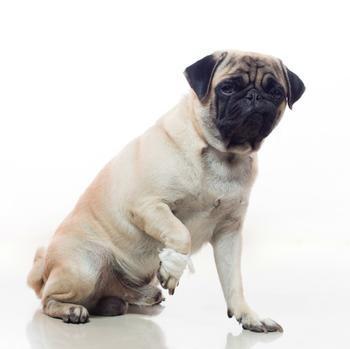 Your middle-aged dog or cat starts limping. Assuming it's arthritis, your first impulse is to reach for the ibuprofen bottle. But not so fast. Pain relievers that may be safe for humans aren't necessarily safe for pets, says Melanie McLean, D.V.M., a veterinarian at the Food and Drug Administration (FDA).
It may be that ibuprofen or another non-steroidal anti-inflammatory drug -- commonly called an NSAID -- is just fine if given in the proper dosage and if you are careful to watch for side effects. But it's important to be careful.
"Scientists consider NSAIDs the cornerstone of osteoarthritis therapy in dogs," says Melanie McLean, D.V.M., a veterinarian at the Food and Drug Administration (FDA). Some NSAIDS are also used to manage pain after surgery in both dogs and cats. No NSAID has been approved for long-term use in cats.
NSAIDs carry risks as well as benefits, however, and all dogs and cats should undergo a thorough physical examination by a veterinarian — including a discussion of the pet's medical history — before beginning NSAID therapy. McLean notes that it's also important that you talk to your veterinarian about possible side effects, including those that could signal danger.
Risks and side effects
NSAIDS are associated with gastrointestinal ulcers/perforations, kidney, and liver toxicity (damage done by exposure to medications or chemicals) and must be used cautiously in animals with pre-existing kidney or liver problems.
Because most liver-associated toxicities occur during the first three weeks, it's especially important to closely monitor the results of blood tests during the early stages of long-term NSAID treatment in dogs. Also, before starting long-term treatment with NSAIDs in dogs, blood tests should be conducted to establish baseline data and then repeated on a regular basis. McLean recommends that you talk with your veterinarian about how often this blood work should be done.
Some of the most common side effects of NSAIDS in animals reported to FDA are:
vomiting

decreased or no appetite

decreased activity level

diarrhea
While your animal is taking NSAIDs, continuously monitor the pet for these side effects as well as looking for blood in the feces, tar-like stools, yellowing of the whites of the eyes, or yellowing of the gums. If you see these, call your veterinarian immediately, McLean says. Other reported side effects include stomach and intestinal ulcers, intestinal perforation (a hole in the wall of the intestine), kidney failure, liver failure and death.
Giving two NSAIDs at the same time, or giving an NSAID with a steroid, such as prednisone, can significantly increase the risk and severity of side effects, especially gastrointestinal toxicity.
Risks associated with NSAIDs are detailed on the package inserts and the client information sheets that accompany all FDA-approved veterinary oral NSAIDs.
OTC meds for people
McLean says that it's not unusual for pet owners to want to give their animals NSAIDs or acetaminophen (Tylenol and other brands, which are not NSAIDs) straight from their own medicine cabinets. "Many people don't realize that a medicine that's safe for people may not be safe for dogs or cats, or that a dose that is safe for people may not be safe for their pets," she notes.
In fact, some over-the-counter (OTC) human pain relievers can be toxic, or even deadly, in pets. McLean suggests that you check with your veterinarian first if you want to give your animal OTC human drugs.
"You should always check with your veterinarian first before giving your animal any kind of medication, prescription or over-the-counter," she notes. Similarly, pet owners should not assume that a medicine that is safe for one animal is necessarily safe for another.
---