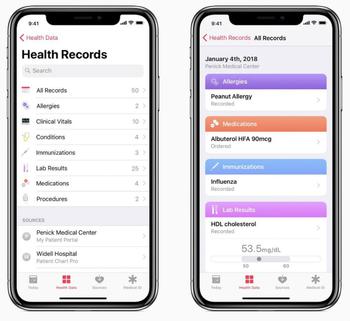 Apple's iOS 11.3 update has been released to the public, which means iPhone users who download the latest software now have access to a new Health Records feature.
The new feature lets iPhone users at more than 100 hospitals and clinics across the country access parts of their medical records through the Health app, Apple announced.
It was first unveiled in a beta version back in January, and Thursday's update makes it available to all users who update their phone's software to the latest version.
"The new Health Records feature brings together hospitals, clinics, and the existing Health app to make it easy for consumers to see their available medical data from multiple providers, whenever they choose," Apple previously said.
Easily accessible medical records
By giving patients the ability to retrieve their medical records right from their iPhone or iPad, Apple hopes to give users more control over their health history.
With greater control comes a better understanding of health history, which can set the stage for patients to have informed conversations with physicians and family members about future medical decisions.
"Patients from participating medical institutions will have information from various institutions organized into one view and receive regular notifications for their lab results, medications, conditions and more," the company said.
Health Records data is encrypted and protected with the user's iPhone passcode.
The medical information will be available to iPhone users who are patients at 39 health systems that are working with Apple, including Stanford Medicine and Johns Hopkins. Previously, the medical records section of the app was only available to users who had signed up to test a pre-release version.
Participating health groups
Apple said the following health systems, by region, have enabled the feature:
Northeast and Mid-Atlantic United States. Providers AtlantiCare, Geisinger Health System, Johns Hopkins Medicine, LifeBridge Health, NYU Langone Health, Partners HealthCare, Penn Medicine, Thomas Jefferson University Hospitals, Inc., Valley Medical Group P.C., plus the combined Yale New Haven Health and Yale Medicine.

Midwest. Cerner Health Clinic, CoxHealth, Mosaic Life Care, Nebraska Methodist Health System, OhioHealth, Rush University Medical Center, Southwest General Health Center, Truman Medical Centers, and The University of Chicago Medicine.

South. Adventist Health System, BayCare Health System, Duke University Health System, MedStar Health, Methodist Le Bonheur Healthcare, Mission Health, Ochsner Health System, Ortho Virginia, TSAOG Orthopaedics, UNC Health Care, Vanderbilt University Medical Center, and WVU Medicine.

Western U.S. Cedars-Sinai, Dignity Health, Eisenhower Health, Providence St. Joseph Health, Scripps Health, Stanford Medicine, UC San Diego Health, UC Irvine Health.