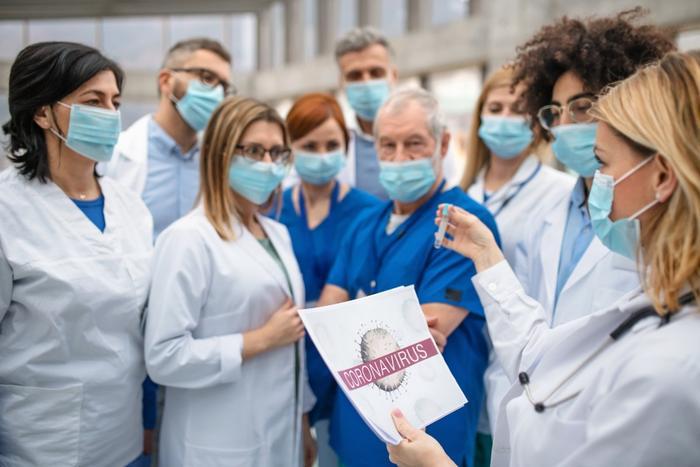 Apple is taking a break from producing its normal electronics products to lend a hand in the effort to contain the coronavirus (COVID-19). The company has sourced 20 million face masks and has designed and built face shields.
In a video released on Twitter over the weekend, Apple CEO Tim Cook said the products will be donated to health workers trying to deal with the virus in various "hot spot" cities.
"The number of masks we've been able to source through our supply chain has risen to over 20 million," Cook said. "This is truly a global effort and we're working continuously and closely with governments at all levels to make sure these are donated to places of greatest need."
Cook also reported that the company's engineers have designed a clear, plastic face shield to be worn by front-line health care personnel. It was designed so that it packs flat to make it easier to ship in large quantities. Cook said Apple will ship more than 1 million of the shields before the end of the week.
"We've launched a company-wide effort, bringing together product designers, engineering, operations, and packaging teams and our suppliers to design, produce, and ship face shields for health workers," Cook said.
First shipment went out last week
Cook says the face shields are already making their way to hospitals. He said the first shipment was sent to Kaiser Health facilities in Santa Clara, Calif., late last week.
While Apple is not necessarily a health products company, it has been leaning in that direction. The Apple Watch has been praised by some physicians as a tool that consumers can use to accurately monitor vital signs. 
Apple joins other U.S.-based corporations that have shifted their operations in recent days to produce products that help hospitals cope with the effects of the virus. Carmakers Ford, GM, and Tesla have retooled to begin turning out ventilators and ventilator parts to meet anticipated shortages.
Ford has reopened an assembly plant in Michigan to help GE Health Care produce ventilators for hospitals. The company announced plans to produce 50,000 of the vitally needed units within 100 days and up to 30,000 a month after that if needed.