It's hard to imagine in 2017 that just a decade ago, smartphones as we know them today didn't exist.
But in early 2007, Apple co-founder and CEO Steve Jobs, clad in his trademarked black turtleneck and blue jeans, took the stage at MacWorld in San Francisco. The theater was packed with tech enthusiasts who had been tipped off that something big was in the works. They had no idea how big.
"Today, we're introducing three revolutionary products," Jobs told the crowd, which began to cheer. "The first one is a wide sceen iPod with touchscreen controls."
The crowd whooped and hollered as the icon of an iPod appeared on the screen.
"The second is a revolutionary mobile phone," Jobs said, to even louder cheers. "And the third is a breakthrough internet communications device."
At that, the cheers died down. The audience was confused. Jobs repeated that Apple was introducing three new products. The crowd's cheers had turned to a curious buzz.
"An iPod, a phone, and an internet communicator," Jobs said.
He repeats himself a third time and the applause and laughter builds.
"Are you getting it?" he asked.
Finally, they did. The product Jobs was introducing was a new smartphone that also stored and played music and made it easy to access the internet. One product that did three things.
Wildly popular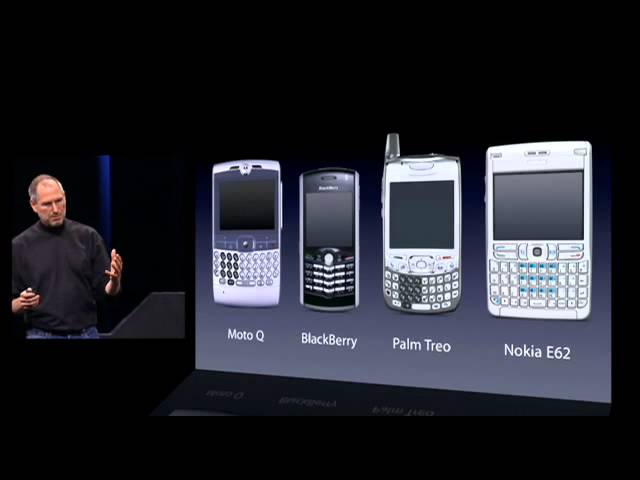 The iPhone proved to be wildly popular. Fans would line up in front of cell phone stores to buy them when they went on sale, and would do so again each time Apple introduced a new generation of the devices, which seemed to always push the technological envelope.
The original iPhone featured a 3.5 inch display with 320x480 resolution at 163 ppi, and came with 4 GB, 8 GB, or 16 GB of flash memory. It had built-in support for Wi-Fi, EDGE, and Bluetooth 2.0. Its camera was all of 2.0 megapixels.
Of course, Apple didn't have the playing field to itself for long. Despite Jobs' assertion that Apple had nailed down all applicable patents, Samsung, Motorola, and other competitors soon had their own products, running on the Android operating system, owned by Google.
After protracted litigation, today the smartphone world remains a battleground between iPhone and Android, with both platforms competing for consumers' hearts and minds.
Latest generation
Apple's latest generation of smartphones, the iPhone 8, iPhone 8 Plus, and iPhone X, represents a quantum leap over the first offering 10 years ago. But like its immediate predecessors, it's not a huge leap past the generation it's replacing.
The iPhone 8 has a 4.7 inch Retina HD display with a reinforced glass back that allows wireless charging. The company says it's dust and water resistant and comes with a 12 megapixel camera that has optical image stabilization. The company says the video capture is improved over the iPhone 7 model.
The iPhone Plus is bigger, with a 5.5 inch display. It also has wireless charging capability and an enhanced camera.
But most of the attention is focused on a third offering, the iPhone X, which will retail right at $1,000. The X is encased in glass with a 5.8 inch Super Retina display with an enhanced camera and a Face ID system that can be used to unlock the phone and make payments.
Matt Shultz, senior analyst at CreditCards.com, says that may be a case of bad timing, with the release coming just days after news of Equifax's major data breach.
 "That debacle has put data security front and center in people's minds," Schultz said. "If Apple's facial recognition tool proves to be significantly flawed, it could really damage Apple's hopes for Apple Pay expansion. People simply won't use a payments tool if they don't think it is safe."
Probably not for the average consumer
Then there's the price. At just under $1,000, Bankrate senior economic analyst Mark Hamrick says the iPhone X isn't going to be a device for the average consumer, who is often living paycheck-to-paycheck.
"This is where the desire to have the shiny new thing collides with the ability to pay for it," he said.
Make no mistake, today's smartphones -- including the latest offerings from Apple -- are impressive works of consumer technology. But don't expect consumers to camp out in front of Apple stores to buy one.
We saw the future 10 years ago and now we sort of take it for granted.