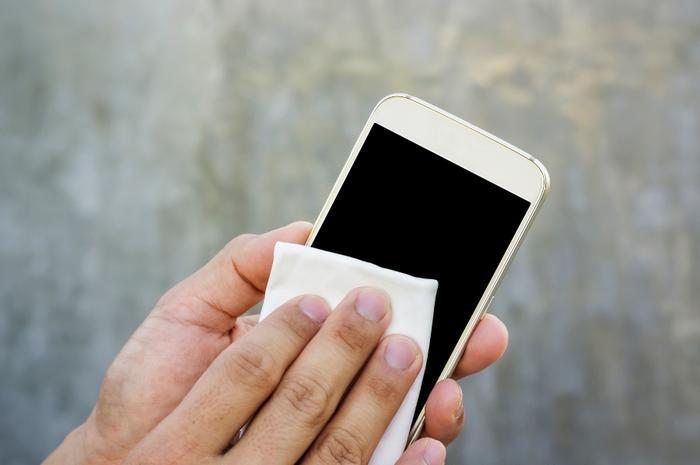 It turns out that, yes, you can clean your smartphone with a disinfectant. Just be careful doing it.
In this coronavirus (COVID-19) age, we've all gotten more sensitive to the need to clean surfaces where germs can collect. Your smartphone is exhibit A. During the day, you touch all kinds of surfaces where germs may lurk, then pick up your mobile device. Keeping your phone germ-free could go a long way towards keeping you healthy.
For the longest time, Apple discouraged customers from using disinfectant wipes to clean their iPhones. Lately, that advice has changed, according to The Wall Street Journal.
Apple has updated its advice for keeping devices clean. In particular, it has addressed the question of whether it is advisable to use a disinfectant product. In the past, it has discouraged the practice.
"Using a 70 percent isopropyl alcohol wipe or Clorox Disinfecting Wipes, you may gently wipe the hard, nonporous surfaces of your Apple product, such as the display, keyboard, or other exterior surfaces. Don't use bleach," the company now says on its website." Avoid getting moisture in any opening, and don't submerge your Apple product in any cleaning agents. Don't use on fabric or leather surfaces."
According to The Journal, Apple previously said that "cleaning products and abrasive materials will further diminish the coating and might scratch your iPhone." Google says its smartphones are made to withstand clearing with "ordinary household soap or cleaning wipes."
Most surfaces you touch need to be cleaned
Dr. Scott Gottlieb, the former commissioner of the Food and Drug Administration (FDA), says tainted surfaces are the biggest source of spreading germs, including those that cause the coronavirus. He adds that consumers who clean surfaces regularly and frequently wash their hands have a better chance of avoiding illness.
Long before the coronavirus became a threat, public health officials warned consumers about the multitude of germs gathering on the surface of their mobile devices. A 2017 study of high school students' smartphones found 100 percent of the devices were packed with nasty germs.
Researchers at the University of Arizona found that mobile devices generally carry 10 times more bacteria than the average toilet seat.