---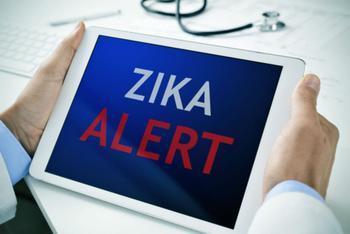 Want to help public health investigators come up with new ways to fight the Zika virus? Now you can, with Kidenga -- a free app for iOS and Android devices.
The "community-based disease detection system" asks users to report their symptoms as well as mosquito activity in their area. In doing so, citizens may be able to help health experts better track and detect Zika outbreaks.
In addition to tracking "day-biting mosquito populations within a community," the app keeps users current on confirmed cases of Zika within their community. Kidenga also provides important information on preventing mosquito-borne diseases.  
'Early alert is critical'
Kacey Ernst, an infectious disease epidemiologist at the College of Public Health, said the app's use of ZIP codes may help experts zero in on areas that "appear to have an uptick of suspicious symptoms," which may hint at cases of dengue, chikungunya, and Zika.
"This early alert is critical to reduce or prevent further spread of the virus," Ernst said in a statement.
Apps like Kidenga and other tools for self-reporting could be especially vital, as not everyone will see a physician if their symptoms are mild. People may be more likely to report symptoms if it can be done on their smartphone.
"Click a button that says everyone is healthy and say whether or not you noticed mosquitoes in your area, and you're done." Ernst told News4 Tuscon.
Arizona, Florida, Texas
Currently, researchers are focused on having the app used in states with high populations of Aedes mosquitoes, such as Arizona, Florida, and Texas. Controlling populations of Aedes aegypti in states like these, where the climate is humid and subtropical, is no easy task.
Ernst says reducing transmission risk "requires buy-in ranging from grassroots community initiatives to government-operated programs," adding that the app may help. "With more information, we hope that more people will join the fight to control these mosquitoes."
The app was developed by researchers from the University of Arizona's Mel and Enid Zuckerman College of Public Health.
Symptoms of Zika 
The most common symptoms of Zika are fever, red eyes, and joint pain, according to the U.S. Centers for Disease Control and Prevention.  Headaches and muscle pain may also occur, although some individuals may not exhibit any symptoms. 
If you have symptoms or visited an area with Zika, you are encouraged to see your doctor. It is especially important to do so if you are pregnant, as the Zika virus can cause severe birth defects. 
---