---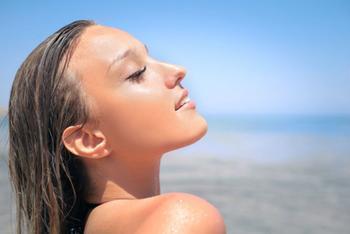 The summer sun may encourage us to spend more time outdoors, but it isn't always kind to our skin once we're there.
Sun bathers and outdoor activity enthusiasts who frequently step out sans sunscreen may be at risk of developing skin cancer later in life.
According to the Skin Cancer Foundation, one in every five Americans will get some type of skin cancer in their lifetime. Even more shocking: almost half of Americans over the age of 65 will have had at least one type of skin cancer.
We all know the sun's rays can be harmful, but not everyone knows the answers to other sun-related questions. For instance, you may not know how vulnerable your unique skin type is or how often sunscreen should be applied at different UV levels.
But now (you guessed it), there's an app for that.
Calculates burn risk
A new app called UVLens (free on iOS and Android) measures UV levels and tells users if they need to apply sunscreen and/or grab a hat and sunglasses before heading out.
All info is neatly displayed on a color-coded wheel, which shows the hourly UV forecast and lets you know how quickly you would burn as a result of it. Users can also see other valuable information, such as what time of day to be most diligent about covering up.
In addition to providing general UV level-based info, the app gets a little more personal. After taking a skin type assessment, you'll learn all about the skin you're in -- specifically, how your skin type reacts to the sun and how quickly you're likely to burn.
UVLens also seeks to encourage healthy sun habits by educating users on what precautions to take depending on the strength of the UV rays.
---