---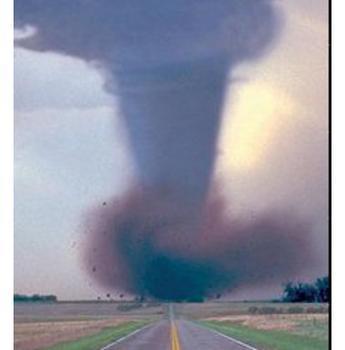 Tornadoes have been around forever but people haven't. And since we're still making people, there are more of us in the path of tornadoes each year, so it's a good idea to review a few simple safety tips as the spring storm season opens.
Don't stop reading just because you're in Vermont, Alaska, or some other state that doesn't see many tornadoes. They can happen anywhere, and have. Tornadoes have been recorded in every state in the country, including Alaska. 
Tornado safety really works out to two simple steps: stay alert and stay out of the way. 
Stay alert
To stay alert, experts recommend you buy a weather radio, the kind that will sound an alert tone when there's severe weather in your area. Many smartphones will do this too but may not be as reliable. 
It's not a good idea to rely too heavily on the web. Pages often aren't updated as quickly as they should be and if you forget to refresh your browser, you may not see the latest information anyway.
If you're in your car when conditions are threatening, listen to a local radio station. Satellite radio isn't local and won't be much help.
Stay out of the way
The one good thing about tornadoes is that they cut a pretty narrow swath, unlike hurricanes, floods, or other natural disasters. But if you're in the path, you're in trouble.
Experts advise you pick a safe spot in your home, school, or workplace and then clear a path so you can get to it quickly. The ideal spot will have several walls between you and the outdoors -- perhaps a closet or bathroom. Having this spot in the basement or on the ground floor is best.
When a warning is issued, go to your safe spot and stay there. Don't go outside to see if you can spot the storm. 
Reminder: A tornado warning means an actual tornado has been sighted in your area. A tornado alert means conditions for a tornado are ripe and you should stay alert for updates.
In the car
Aside from being mobile, a car is not a good place to be in a tornado. If at all possible, head for a safe indoor location and stay there until conditions clear up. Better yet, stay home when it's stormy outside.
This may sound obvious, but drive carefully. There are lots of traffic accidents when tornadoes strike and many are caused not by the storm itself but by drivers trying to get out of the way.
Don't take shelter under an overpass or bridge. The wind is likely to be stronger there and it may be prone to flash flooding. 
Bigger and stronger
There's some debate about whether there are more tornadoes these days, but it does appear to be the case that they are getting stronger. Bridge Creek, Oklahoma measured a tornado that had winds of 302 miles per hour in 1999. The same storm later killed 36 people at Moore, Okla.
While it's true that tornadoes can happen anywhere, there are some areas that are more dangerous than others. Texas, Kansas, Florida, and Oklahoma are the most tornado-prone.
Oklahoma City has had more tornadoes than anywhere else, more than 100 since 1893.
---