---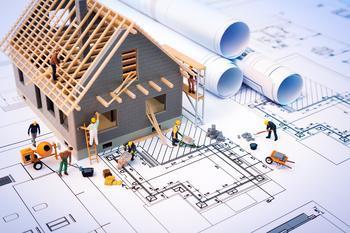 New-home construction took a U-turn in August.
The Commerce Department reports housing starts were down 5.8% in August at a seasonally adjusted annual rate of 1,142,000 after rising 2.1% in July. Even with last month's decline, groundbreakings are up 0.9% from the same period a year earlier.
Construction of single-family homes was at a rate of 722,000 from the previous month, a plunge of 6.0%, while the August rate for units in buildings with five units dropped 6.9% to a rate of 403,000.
The decline isn't a big concern for National Association of Home Builders Chief Economist Robert Dietz.
"On a year-over-year basis, single-family starts are up 9%," he notes, adding, "while multifamily construction continues to level off at a solid level as that sector seeks to find a balance between supply and demand."
Building permits
Overall building permits, an indicator of developers plans in the months ahead, came in at a seasonally adjusted annual rate of 1,139,000 last month -- down 0.4% from July and 2.3% below August 2015.
Permits for single-family homes rose 3.7% from July to a rate of 737,000; authorizations of units in buildings with five units or more, on the other hand, fell 8.4% to a rate of 370,000.
The complete report is available on the Commerce Department website.
---