---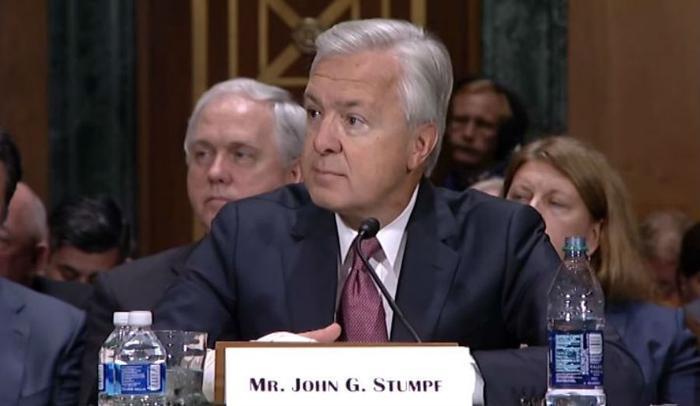 In a bid to quell the furor over Wells Fargo's fraudulent accounts activity, establishing accounts without customers' permission, company chairman and CEO John Stumpf has announced his retirement, effective immediately.
Stumpf had been a widely admired corporate CEO until about a month ago, guiding Wells Fargo stock higher while other bank stocks languished. But the revelation that thousands of Wells Fargo employees had set up fraudulent accounts, apparently in a bid to hit sales goals, tarnished Stumpf's reputation and that of the bank.
In two appearances before Congressional committees, Stumpf was raked over the coals by angry lawmakers who condemned his oversight. At one point, Sen. Elizabeth Warren (D-MA), a member of the Senate Banking Committee, called Stumpf "gutless" to his face.
So Stumpf might not mind stepping away from the ongoing scandal, with Wells Fargo President and Chief Operating Officer Tim Sloan tapped by the board of directors to succeed him as CEO.
Stumpf had been with Wells Fargo for 34 years, joining the firm in 1982 as part of the former Norwest Bank. He became Wells Fargo's CEO in June 2007 and its chairman in January 2010.
Optimistic about the future
"I am grateful for the opportunity to have led Wells Fargo," Stumpf said in a statement. "I am also very optimistic about its future, because of our talented and caring team members and the goodwill the stagecoach continues to enjoy with tens of millions of customers."
But there may be less good will than before. A lot of customers and former customers are angry that employees opened accounts in their names without their permission. But present and former Wells Fargo employees have complained that they have been victims too, pushed beyond limits to meet sales goals, no matter what the cost. After the scandal broke, Wells Fargo announced that more than 5,000 employees had been fired.
It should be pointed out that not all consumers are angry at the bank's employees. Ellie, a reader from Santa Cruz, Calif., writes that she thinks the managers of the branch she uses have over-reacted and are taking it out on employees.
"At the branch I frequent there is one teller in particular who actually seems picked on," Ellie wrote in a ConsumerAffairs post. "I can tell she isn't happy in her position but it seems she wants to be. It just seems like with every transaction she makes someone is watching her and they always jump in. She will get a customer and before she can even speak someone is all over her case. The poor girl is beaten down and walking on eggshells all day! That's no way to treat an employee and no way to run a business."
Stumpf, meanwhile, leaves Wells Fargo and its employees, with a tarnished reputation. The stock has taken a beating in recent weeks with some analysts saying it may fall even more.
Thanks
Keep an eye on your inbox, the lastest consumer news is on it's way!
Unsubscribe easily whenever you want
---