---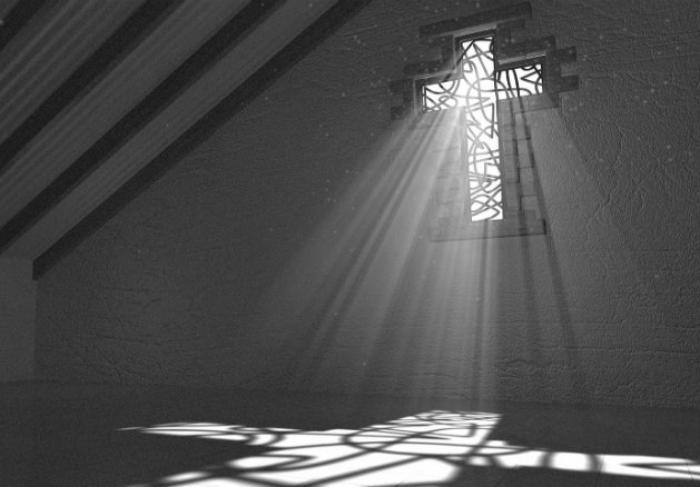 We don't normally think of religion as a consumer product but it has a lot of similarities to, say, an expensive newspaper subscription or a health club -- something you may pay for regularly even if you don't make much use of it.
But business hasn't been so good over the last four decades as consumer confidence in religion has fallen to this year's all-time low of 42%, Gallup reports.,Confidence in religion began faltering in the 1980s, while the sharpest decline occurred,between 2001 and 2002,as the Catholic Church grappled with a major sexual abuse scandal. Since then, periodic improvements have proved temporary, and it has continued to drift lower.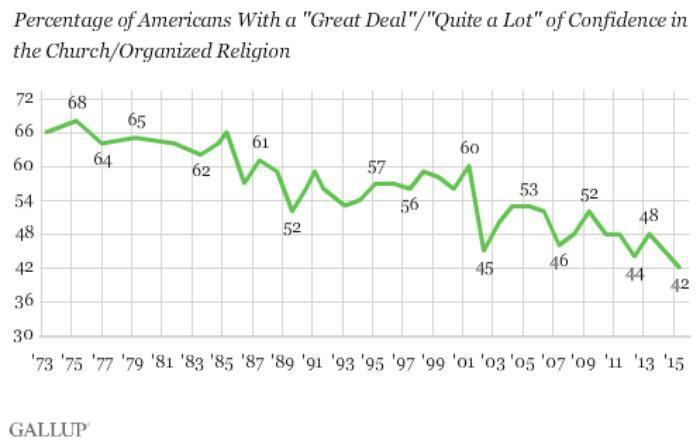 Catholic confidence stabilizes
U.S. Protestants' confidence in the church and organized religion,hit a new low this year, with 51% now saying they have a great deal or quite a lot of confidence in it. While confidence among U.S. Catholics is also at 51%, this represents a steadying after more than a decade of varying confidence during which their ratings reached as low as 39%.
Although confidence among Protestants has been sliding since 2009, Catholics' has remained above 50% each of the last two years, the first time it has achieved this since 2003-2004. The leadership of the,popular Pope Francis, including his recent initiative to hold high-ranking leaders of the Catholic Church accountable for their role in past child sex abuse scandals, may be a factor.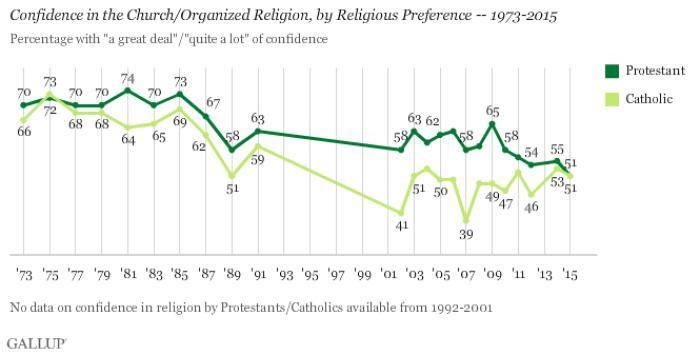 Gallup does not have data on confidence in the church broken out by Protestants and Catholics for most of the 1990s, but the trends prior to that show that confidence in organized religion fell among both religious categories starting in the mid-1980s, before it recovered somewhat in 1991.,
Televangelist scandals
Previous Gallup analysis,suggests the drop was related to numerous Protestant televangelist scandals. Yet Protestants generally maintained higher confidence in religion than Catholics did during this period.
As low as confidence in the church and organized religion is among Protestants and Catholics relative to the past, it is predictably much lower among nonreligious adults as well as non-Christians. In the latest poll, conducted June 2-7, only 10% of the nonreligious and non-Christians combined said they had a great deal or quite a lot of confidence in the church or organized religion.
In addition to serious scandals that have come to light surrounding various religious leaders and church institutions in recent decades, the increase in the share of Americans identifying as nonreligious or as members of a non-Christian faith is another reason that confidence in the church has declined.
The total percentage of Americans identifying as Catholic, Protestant or other Christian in Gallup polls has fallen, while the percentage with no religious affiliation has risen considerably.
Ranks below the police
Organized religion is losing its footing as a pillar of moral leadership in the nation's culture. Once reliably at the top of Gallup's confidence in institutions list,,it now ranks fourth,behind the military, small business and the police, and just ahead of the medical system.
The good news for the church is that it still ranks among the more well-respected institutions at a time when fewer than one in four Americans have confidence in several others, including Congress and the media.
Poor behavior on the part of some religious leaders has caused serious self-inflicted wounds for the church and organized religion -- damaging its image among Protestants and Catholics as well as among non-Christians.
At the same time, the nation is becoming less Christian and less religious, and those outside of Christianity naturally view the church with less respect.
Survey Methods
Results for this Gallup poll are based on telephone interviews conducted June 2-7, 2015, with a random sample of 1,527 adults, aged 18 and older, living in all 50 U.S. states and the District of Columbia. For results based on the total sample of national adults, the margin of sampling error is ±3 percentage points at the 95% confidence level.
,
---