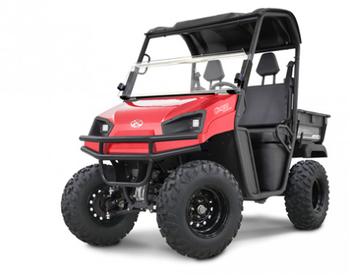 American Landmaster of Columbia City, Ind., is recalling about 1,500 off-road utility vehicles.
Gas can leak from the gas tank, posing fire and burn hazards.
No incidents or injuries have been reported.
This recall involves model year 2018 gasoline-powered Landstar, Crossroad and Trailwagon models of American Landmaster four-wheel off-road utility vehicles.
The recalled vehicles were sold in a variety of colors.
The model name and number are printed on the hood of each front fender.
The American Landmaster logo is printed on the center of the hood of the vehicle. The VIN is located behind the pedals and below the steering wheel.
Model Number

VIN range start

VIN range end

CR350, LS350, LS350DL

A4PUTYFB1JBA00023

A4PUTYFB9JBA00304

A4PUTYFB1JBA00751

A4PUTYFB7JBA00754

LS450

A4PUTYJC4JBA00422

A4PUTYJC6JBA00499

A4PUTYJC3JBA00749

A4PUTYJCXJBA01512

TW450

A4PUTYJCXJBA00358

A4PUTYJC0JBA00496

A4PUTYJC2JBA00760

A4PUTYJC2JBA01147

TW750

A4PUTYPD0JBA00014

A4PUTYPD8JBB00149

LS477

A4PUVTKD7JBB00003

A4PUVTKD9JBB00049

LS550

A4PUTVKD9JBA00003

A4PUTVKD9JBA00308

LS670, 677EFI, 677EPS

A4PUTYPD6JBB00005

A4PUTYPD7JBB00224

Crew2, Crew4, Crew4X

A4PUFYPD0JBA00005

A4PUFYPD5JBA00078
The vehicles, manufactured in the U.S., were sold at Atwood Distributing, Tractor Supply Company, Orscheln Farm and Home stores and other distributors nationwide from January 2018, through July 2018, for between $4,300 and $10,300.
What to do
Consumers should immediately stop using the recalled vehicles and contact American Landmaster for a free repair.
Consumers may contact American Landmaster at (800) 643-7332 from 8 a.m. to 5 p.m. (ET) Monday through Friday, by email at recall@AmericanLandmaster.com or online at www.AmericanLandmaster.com or www.AmericanLandmaster.com/recall for more information.