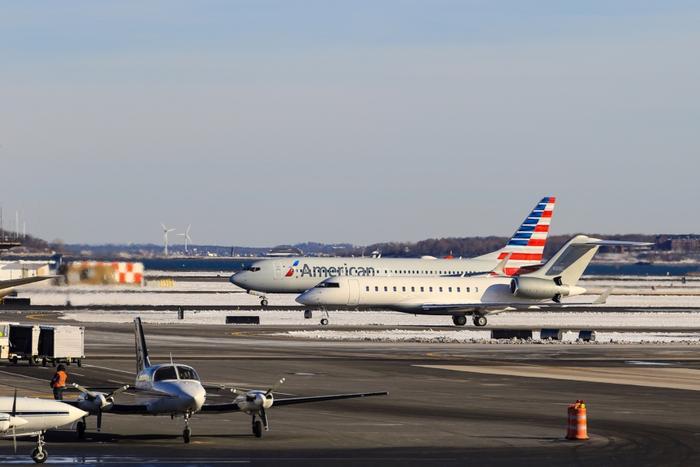 American Airlines has gone to court asking a judge for a preliminary injunction against the union representing its flight mechanics.
In its complaint, the airline alleged union members are engaged in an illegal work slowdown that has resulted in delays and canceled flights. In a letter to the airline's mechanics, David Seymour, American's senior vice president of integrated operations, said 650 flights have been canceled, inconveniencing 125,000 customers. He claimed mechanics were responsible for 1,500 maintenance delays.
"The data shows the odds of this being random as opposed to concerted activity are less than one in one billion," Seymour said in the letter.
American's 15,000 mechanics are represented by two unions, the International Association of Machinists and the Transport Workers union. The two unions represented separate airline workers before American and US Air merged. An association formed from the two unions now represents American mechanics under separate contracts.
The unions didn't immediately respond to media requests for comment.
Similar claim by Southwest
In February, Southwest Airlines declared a state of emergency and blamed a surge in flight cancellations on the airline's mechanics. At the time Southwest had two lawsuits pending against the mechanics' union and was involved in contract negotiations.
Southwest noted that shortly after contract talks with the union broke off, the airline experienced "an unprecedented number" of out-of-service aircraft in four specific maintenance locations despite no change in its maintenance programs or procedures.
In his letter to the American mechanics, Seymour charged the unions are engaging in illegal activities to gain leverage in the contract talks.
Consumers traveling on American, meanwhile, might consider taking advantage of the airline's BeNotified service, an app that notifies flyers of important flight updates.
In the past, the airline placed telephone calls to travelers to notify them of their flight status but recently told customers that starting May 23, it will communicate only by email or text.