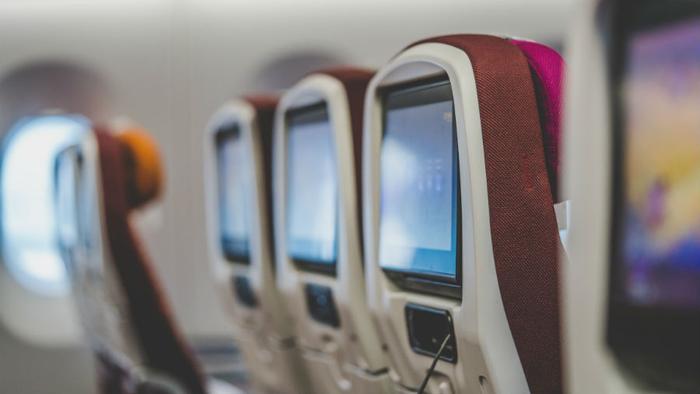 Already the only U.S. airline to offer live TV on international flights, American Airlines is rolling out free TV for its domestic passengers.
The airline announced that it's flipping the switch on 100 domestic aircraft to start, with plans to keep growing both live TV and high-speed internet to more than 700 of its planes during 2019. The service results from a partnership with DISH, and it will reportedly costAmerican $12.3 billion to modernize its fleet to make the idea a reality.
"Our customers have told us they want a living room experience in the air -- the ability to watch free entertainment, stream their favorite shows on-demand, charge their phones and stay connected from start to finish during their travels," said Kurt Stache, American's Senior Vice President for Marketing, Loyalty & Sales.
Fliers will be able to access the streams via laptops, smartphones, or tablets and will have 12 live TV channels to choose from. These include:
Bravo

CBS

CNBC

CNN

Disney Channel

ESPN

FOX

NBC

NFL Network

Telemundo

TNT

USA
The airlines are paying attention
It's true that fliers might feel nickel-and-dimed, but the airlines have caught on that the shift to personal digital devices is a chance to offer more for less, be it electric power outlets, Wi-Fi, or on-demand video.
"American's vision aligns with internet-user trends that are a reality both on the ground and in the air," Access Intel's Woodrow Bellamy III told ConsumerAffairs.
"Just look at the numbers: Cisco's latest mobile data traffic forecast, for example, predicts that 78% of global mobile data traffic will be the consumption of video by 2021. That's a tough metric not to take advantage of."
The shape of things to come
In-flight TV and movie entertainment has been around for a couple of decades -- starting with those neck-craning overhead screen versions to the embedded seatback versions the airlines offer now.
"Seatback entertainment screens are so 2002," wrote Skift in its recent airline innovation report. "Airlines should remove them and focus on what their highest-value travelers actually want — fast, reliable Wi-Fi. Passengers who care about quality entertainment can load up their own devices with stuff they actually want to watch. Or they can stream from a server on the plane."
Switching from seatback screens to passenger devices will take some time, but the shakeout is in high gear.
How do other airlines stack up with American's new offer?
Southwest is currently offering a free TV promotion, but it has plans to raise that to $5 at some point.
United has partnered with DIRECTV to offer its coach passengers a package of movies and TV shows ranging in price from $4.99 to $7.00 depending on the length of the flight and when the package is purchased.
Delta offers free streaming on seatback monitors as well as digital devices that use the Delta Studio app.