---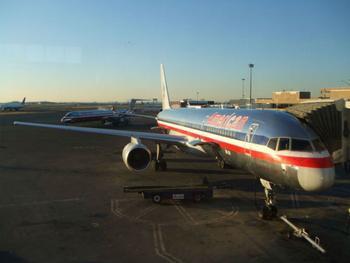 If you've ever been trapped on a plane waiting for take-off, then you know just how infuriating and helpless the situation can be. Your frustration may have been compounded by missing connecting flights in other cities, and more than a few invectives against the airline company may have crossed your mind.
While it may have felt grossly unfair at the time, the Department of Transportation (DOT) takes tarmac delays very seriously, and it recently punished American Airlines for keeping travelers on runways for too long. USA TODAY reports that the company has been fined $1.6 million by the DOT for tarmac delays that occurred between 2013 and 2015. The fine was announced on Wednesday.
"Our tarmac rule is meant to prevent passengers form being trapped in aircraft on the ground for hours on end. We will continue to take enforcement action as necessary to ensure passengers are not kept delayed on the tarmac for lengthy periods of time," said Transportation Secretary Anthony Foxx.
Costly delays
The delays in question occurred over a three-year period at three different airports, including 20 flights in Charlotte on February 16, 2013, six flights in Dallas/Fort Worth on February 27, 2015, and one flight in Shreveport, Louisiana on October 22, 2015. The lion's-share of the delays that occurred in Charlotte were due to a snowstorm and affected approximately 860 passengers.
DOT charges that American Airlines failed to anticipate the problematic situations to prevent the long delays. It says that passengers were forced to wait for hours on planes and were not allowed to leave.
American Airlines responded to the fine by saying that it would fully cooperate with the agency and that it takes its responsibility to its customers seriously. It also explained its actions in Charlotte by saying that it was trying to get passengers to their destination on a day when many other flights were being canceled.
"It is the opinion of American that US Airways' decision to bring aircraft into CLT was the best result possible in this unexpected and difficult situation, as evidenced by the fact that all affected passengers were en route to their final destinations before noon the next day," the company said in a statement.
The DOT has divided the fine to ensure that American is more prepared at the airports where the delays occurred. Of the $1.6 million, $602,000 will be credited in compensation provided to passengers on the delayed flights and $303,000 will be credited for acquiring, operating, and maintaining equipment to monitor weather conditions in Charlotte and Dallas. The department said the airliner will have 30 days to pay the remaining $695,000.
---