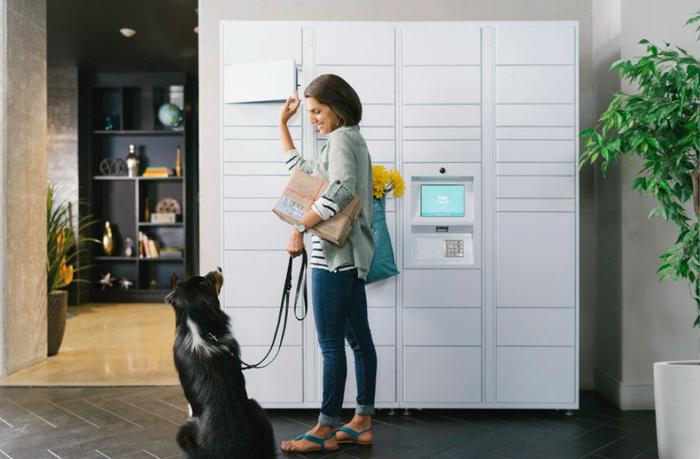 On Tuesday, Amazon announced that more apartment dwellers are getting access to its delivery lockers for apartment complexes, called the Hub.
The Hub is similar to the online retailer's existing Lockers, which launched in 2011 as an alternative to receiving packages from Amazon at home or work.
With the Hub, Amazon places a large metal locker in a common area of an apartment complex. When a resident's order arrives, couriers deliver the package to the on-site Hub where it can be picked up by the resident using an access code.
Unlike the company's existing Lockers, residents can have deliveries from any sender sent to the Hub -- orders don't have to be from Amazon. Residents can pick up their packages 24 hours a day.
Expanding access
The e-commerce giant, which quietly launched its Hub program last summer, has announced that the program is now available to over 500,000 residents across the country with "thousands more" gaining access each month.
The program, "addresses frustrations from property owners, carriers and residents concerning package delivery," said Patrick Supanc, director, Amazon Worldwide Lockers and Pickup, in a statement.
The program is intended to eliminate the need for apartment residents to wait for a delivery from building staff or structure their day so that they can be home to receive a package delivery.
"The Hub simplifies delivery for residents, offering quick and secure access to packages, day or night. For delivery providers, it offers a single, convenient location for package drop-off and gives property managers time and resources back to focus on other priorities," Supanc said.
The Hub program is Amazon's latest effort to combat package theft. Last fall, the company launched Amazon Key, a service that gives delivery personnel access to a consumer's home. Earlier this year, Amazon expanded its Key service to include in-car deliveries, turning a person's car into a delivery locker of sorts.