---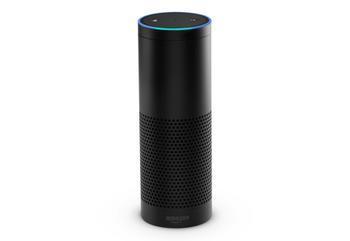 We talk to our computers and other gadgets all the time but, like our significant others, they mostly ignore us. Amazon hopes to change all that with its latest gee-whiz gadget -- the Echo, a slender tube that is somehow reminiscent of the monolith in "2001: A Space Odyssey," only without corners.
The Echo doesn't appear to do much but Amazon assures us that it's always listening, ready to respond to our slightest wish, as long as that wish is something that can be answered by a weather report, Taylor Swift tune or other digitally-rendered data or activity.
And no, it's not just a knock-off of Apple's Siri. While Siri just rides around in your pocket, the Echo stays home and gets stuff done.  
It's a smart hands-free remote control, in other words. It's been available by invitation-only for the past seven months and Amazon assures us that the initial users have been nothing short of ecstatic, giving it a 4.5 (out of 5) rating.
Alexa-powered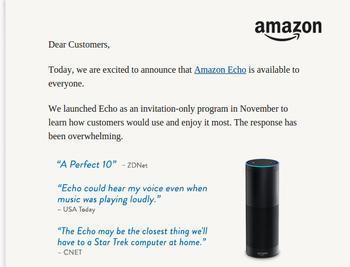 "The customer response to Amazon Echo has been incredibly positive, and we've been working hard to build more as quickly as possible," said Greg Hart , Vice President, Amazon Echo. "We're excited to get Echo into the hands of even more customers and continue to invent new features and experiences."
The slender tube-like device uses far-field voice recognition with an array of seven microphones to keep tabs on your every whim. It is also stuffed with dual downward-firing speakers that are said to produce 360-degree omni-directional, room-filling audio. It doesn't mumble under its breath when it talks back to you, in other words.
Echo is powered by Alexa, Amazon's cloud-dwelling repository of data that, unlike people, keeps getting smarter, we're told. At launch, Echo featured hands-free voice control for music (Amazon Music, Prime Music, iHeartRadio, and TuneIn), information from Wikipedia and the web, weather, timers and alarms, news, and shopping/to-do lists.
Does this sound like something you just can't live without? If so, Amazon will ship you one for $179.99 starting July 14.
---