---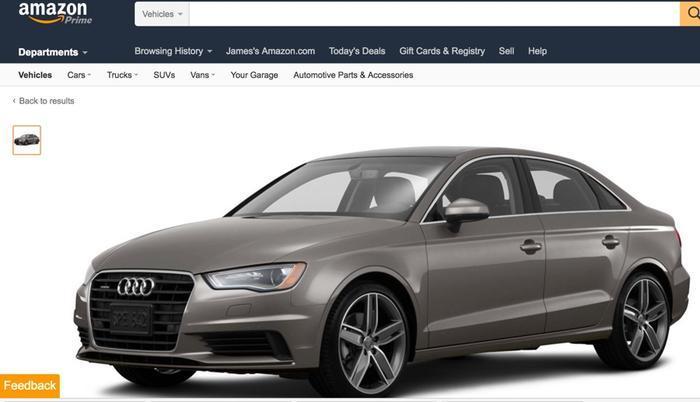 Maybe one of these days, you'll be able to order a new car on Amazon and a drone will drop it at your house a few hours later. That may be a slight exaggeration, but you have to imagine that car dealers will not be thrilled to learn that there is something new today called Amazon Vehicles.
Why didn't they call it Amazon Autos? Partly because there is already an Amazon Automotive Store, which sells parts, accessories, and so forth and which seems destined to be merged into the new section.
Other than alliteration, there's not much missing from the new section of the Amazon site. You can't order a new car -- yet -- but you can order all kinds of parts, accessories, and supplies, and you can look up detailed specifications on just about every current model, as well as compare notes with others who have the car you're interested in.
Officially, Amazon is insisting Amazon Vehicles is just an information resource and accessories supplier.
Dealers feeling queasy?
"Our goal is to support customers during one of the most important, research-intensive purchases in their lives by helping them make informed decisions every step of the way," said Adam Goetsch, Director of Automotive at Amazon.com. "Amazon Vehicles is a great resource for customers who are interested in car information or looking for a broad selection of parts and accessories – all enhanced by the ability to tap into the knowledge, opinions, and experiences of other car owners within the Amazon customer community."
Dealers haven't had much to say about the development just yet, although Automotive News noted that Hyundai earlier partnered with Amazon for an on-demand test-drive program for the 2017 Elantra in Los Angeles and Orange County. 
Called "Prime Now. Drive Now," the program let Prime members book test drives last weekend and will do the same next weekend. Prime members can sign up online and have the car delivered to their home, office, or a nearby coffee shop for a one-hour test drive.
It's a bit early for dealers to begin feeling angina over the announcement, although established auto sites like Cars.com and AutoTrader.com may be feeling a little queasy about now.
Dealers still have a lock on the new-car market, thanks to state laws that prohibit manufacturers from selling directly to consumers, although Tesla has managed to get around the restrictions in a few states.
Sites like Cars.com are similar to Amazon Vehicles but also enable consumers to buy used cars directly from each other and let dealers advertise their new cars online, and it's hard to think that Amazon won't be moving into that space pretty quickly.
---