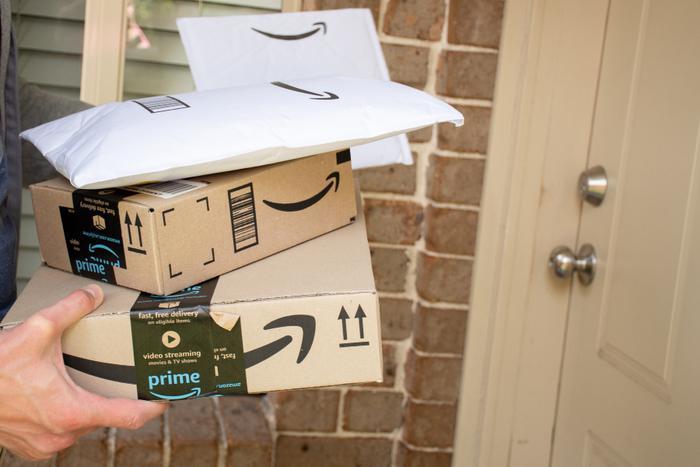 It's all well and good for Amazon to trumpet its Cyber Monday deals and its improved fulfillment processes, but in a follow-up to the rollout of its Cyber Monday price busters, the company is also pushing its customers to consider using alternative pickup locations and consolidate deliveries.
Amazon is urging holiday shoppers to use brick-and-mortar retail locations and neighborhood "hubs" to pick up their packages as it reinforces itself for a spike in online orders. Hub locations include self-service kiosks like Amazon lockers, and most of the people-hosted pickup counters are located inside or near local retail stores. Added up, Amazon says those hubs and lockers can be found in more than 900 cities and towns across the U.S. 
"This year many customers and their families are opting to stay home so the challenge of keeping those special gifts under wraps from family, friends or loved ones is going to be greater than ever," John Felton, vice president of Amazon's global delivery services, said in a statement.
"We're helping customers keep their orders a surprise this year and have a number of ways we're providing them more flexibility, control and convenience over their deliveries—whether that's ordering to an alternative pickup location, tracking their package en route to their home, or consolidating their deliveries to a single day so they can plan ahead."
How to use Amazon's delivery alternatives
Amazon's reason for suggesting alternative delivery or pickup is pretty straightforward. For one thing, it saves the company lots of money since it can lessen the number of last-mile delivery trips to get a package to a specific address. The "last mile" part in the delivery chain is a huge link because it's rather labor-intensive and expensive.
Some of Amazon's own FAQs about alternative delivery to hubs and kiosks include:
How do you use it? "To use an Amazon Hub location simply find a convenient location and add it to your Amazon address book or search for it when prompted at checkout. Then, select it as your delivery address," the company says.
Then, once a parcel has been delivered, Amazon will email the customer a collection barcode. All that's left at that point is to visit the selected Locker or Counter to collect the parcel. Once a customer gets to a Locker, they will scan the barcode to access their delivery. If they're using a counter location, the store assistant will scan the barcode before handing over the parcel.
What is the difference between Locker and Counter? Lockers are simply self-service kiosks where customers can collect or return their Amazon parcels at a time that's convenient for them, 24/7. Counters can be found at retail locations such as convenience stores; parcels at these locations will be handed over by a staff member in store.
How much does using Amazon Hub cost? There is no transaction fee associated with shipping to an Amazon Hub, but there is one caveat: Amazon Hub locations aren't eligible for Release-Date Delivery.
How long do I have to pick up my parcel? There's some flexibility in pickup times, but it doesn't last forever and it varies between Lockers and Counters. Customers have 3 calendar days to pick up their parcel from a Locker and 14 calendar days to pick up their parcel from a Counter. If you're not able to collect your parcel within this time frame, it will automatically be returned for a refund.
How do I sign up for the service? Amazon customers who opt in for the alternative delivery options have to do one very important thing at checkout online: search and select the most convenient location for them when prompted. 
Can you return an item to an Amazon Hub location? Absolutely. 
Will Alexa blow my cover? Good question. Amazon says that its Alexa device will keep mum on who an item is for, even if a customer asks, "Where's my stuff?" or checks their delivery update notifications. If a customer likes, they can also mark an item as a gift during checkout and Alexa will not reveal the names of those items either. 
"Customers who want to be extra cautious of keeping those gifts under wraps or are worried they might forget to mark an item as a gift during checkout can also change their settings for item names in the Alexa app to hide all titles," the company suggested.
And what is "Amazon Day"?
Another fair request that Amazon is asking its customers to consider is receiving all of their deliveries as a single delivery on a specific day that it's dubbed "Amazon Day." The company says Amazon Day is free to Prime members in the U.S. If they so choose, Prime members can opt to receive all of their orders on one day of the week, often in fewer boxes, to reduce the number of packages and deliveries.
Eligible items can typically be ordered for Amazon Day delivery up to two days before a customer's chosen day. Interested consumers can learn more here.
---
Editor's Note: The headline of the story has been modified to clarify that Amazon's alternative package delivery options are not being offered due to any existing "delivery crunch."