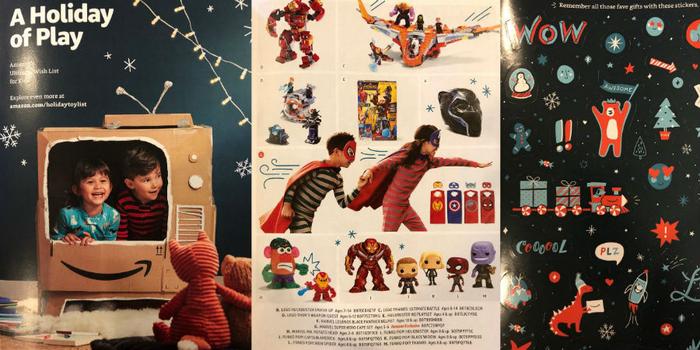 This month, Amazon started sending out its first printed holiday shopping catalog. The move follows the demise of Toys "R" Us and marks the latest in a series steps taken by the online shopping giant to compete with traditional retailers.
The toy catalog, titled "A Holiday of Play," doesn't include prices, but it does include QR codes so readers can easily scan and pull up links to products. Customers can also scan the product images in the catalog with their Amazon App to bring up more information and add items to their shopping cart.
Toys "R" Us, which permanently closed earlier this year, used to send out a 100-page "Big Book" toy catalog near the end of October as a way to help kids create a wishlist before December. Amazon said in a statement that it's "excited to offer a new way for customers to shop for toys this holiday season" through the distribution of its new 70-page toy catalog.
Amazon prepares for the holiday season
Amazon acquired Whole Foods in 2017 and has made other moves to expand its brick-and-mortar presence, including opening convenience stores and bookstores.
Ahead of the holiday shopping season, the tech giant also announced this week that it would be doing away with the $25 minimum purchase requirements on "hundreds of millions of items."
Amazon's holiday toy catalog, which can be viewed here, will also be distributed at Amazon's bookstores and 4-star locations.