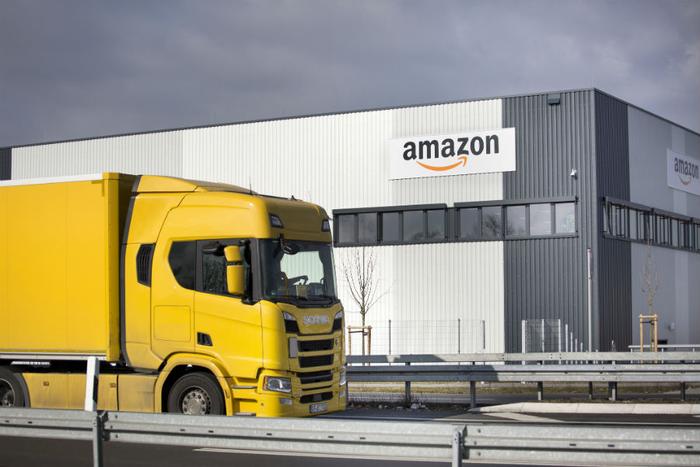 Amazon sees enough growth on the horizon that it plans to hire 125,000 employees in hundreds of towns and cities across the country. It's trying its best to make working for Amazon worthwhile by offering an average starting pay of more than $18 per hour, sign-on bonuses up to $3,000 in select locations, comprehensive benefits, and access to training programs that make these roles a springboard into a long-term career. Oh, and there's this: If those new hires make it to front-line employee status, they get free college tuition.
Posturing itself as "the largest job creator in the U.S.," the company is wasting no time trying to hire its share of the millions of Americans looking for jobs. On September 15, it will hold its annual — and now virtual — Career Day, a job fair open to all, regardless of experience level, professional field, or background. In fact, hiring is already underway, with those larger sign-on bonuses available now in select locations.
Amazon is rolling out the red carpet for prospective employees in locations including these 18 states:
Arizona

California

Colorado

Florida

Georgia

Illinois

Indiana

Kentucky

Maryland

Michigan

New Jersey

New York

North Carolina

Ohio

Pennsylvania

Tennessee

Texas

Washington
About that college degree
If Amazon's approach is to invest in the education of its employees so workers will stay around longer and enhance the company with what they learned, it may be on to something. By 2025, Amazon plans to invest $1.2 billion to expand education and skills training benefits to its workers. 
Through its Career Choice program, the company will fund full college tuition, not only for frontline workers who've been there for a while, but also for those who've been at the company for as little as three months. For workers trying to balance their home and work lives, Amazon says frontline employees can take advantage of the education benefit as long as they're employed by the company.
Amazon is also adding three new education programs that give employees the opportunity to learn skills related to data center maintenance and technology, IT, and user experience and research design. The technology segment contains a key component that Amazon said it would support as part of President Biden's initiative to shore up cybersecurity issues plaguing companies and consumers alike.
What's working at Amazon like?
If Amazon's new offerings sound inviting and you're wondering if a job with the company is worth pursuing — it depends.
ConsumerAffairs has seen rosy narratives on Indeed and Glassdoor, and we've seen less-than-rosy overviews from Insider.
Or, as Rick Moriarity wrote in an Amazon workspace review at Syracuse.com, "The pay at Amazon warehouses exceeds that of many low-wage occupations and comes with a full range of benefits. The jobs can provide gainful employment for people who lack the college degrees or technical skills sought by many employers and who have not really benefited from the nation's strong economy."