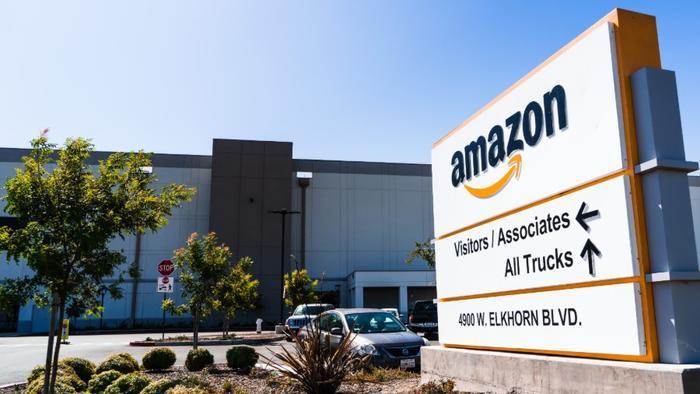 Amazon has made moves to suggest that it is easing COVID-19 shipping restrictions, such as delaying shipments of nonessential items. 
Over the weekend, the company began informing third-party sellers that it would no longer limit the number of units that sellers could send per order to its warehouses. Amazon previously placed a cap on nonessential inventory restocks as it dealt with the sudden surge in consumer demand for products on its marketplace.  
Now, sellers have been informed that they can send in an unrestricted quantity of inventory. 
"We removed quantity limits on products our suppliers can send to our fulfillment centers," Kristen Kish, an Amazon spokeswoman told CNBC. "We continue to adhere to extensive health and safety measures to protect our associates as they pick, pack and ship products to customers, and are improving delivery speeds across our store." 
Amazon has also brought back the "Featured deals" and "Frequently bought together" sections on its website, indicating that the company isn't as crushed by demand as it was in the initial stages of the pandemic. 
The e-commerce giant hasn't yet restored its one- and two-day delivery options, but next-day delivery is now starting to come back online for select cities in the U.S.
Hazard pay for workers
In addition to loosening some shipping restrictions, Amazon will be extending hazard pay to warehouse workers through the end of May. The company will stop offering the extra pay in June, according to a Recode report.  
Amazon has faced criticism over its treatment of front-line workers during the pandemic. Lawmakers and activist groups have argued that the company isn't doing enough to protect warehouse workers who have continued to work during the health crisis and have been forced to work in facilities where other employees have tested positive for COVID-19.
Amazon is currently being investigated by The National Labor Relations Board (NLRB) over its recent firing of at least four workers who spoke out about the company's allegedly unsafe working conditions during the coronavirus crisis. 
In mid-March, the company increased warehouse and delivery employee pay by $2 per hour and instated double overtime pay. After extending the pay hike several times, the increases will now end on May 31.
"We continue to see incredible demand from customers right now and … our team's response in coming back to work has been really great as well," Dave Clark, Amazon's senior vice president of worldwide operations, told Recode. "We think it's the right thing for employees and the right thing for customers to keep it on for a couple of weeks."