---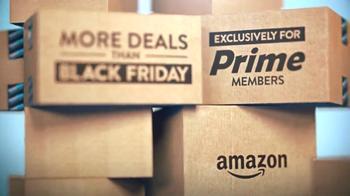 Amazon.com says Tuesday's second annual Prime Day was bigger than last year and set a record for orders worldwide.
The online retailer says global orders were 60% higher than last year while U.S. orders rose 50%. Amazon says it also set a record for orders for Amazon devices, including Fire TV, Fire tablets, Kindle e-readers and Alexa-enabled devices. The company did not release any sales or revenue figures.
Amazon launched the promotion for the first time in 2015, picking a day in July to serve as sort of a precursor to Black Friday. The purpose is to capture consumer holiday shopping dollars before they are spent anywhere else.
It also serves to promote Amazon Prime, since shoppers had to be members to take advantage of the deals.
Devices big sellers
The company said it sold over two and a half times more Amazon Fire TV devices Tuesday than it did on last year's Prime Day. It said the Fire TV Stick was the best-selling Amazon device.
It said Prime customers bought more than two million toys and more than a million pairs of shoes. It took orders for 90,000 TV sets and hundreds of thousands of e-readers.
In the U.S., it was also the biggest single day for sales of Amazon Echo, the retailer's voice-controlled audio system.
How good were the deals?
The holiday shopping site BestBlackFriday.com live blogged Prime Day as it unfolded, comparing the deals to the savings consumers can get on Black Friday itself. Here is some of what it found:
By selling the Kitchen Aid 6-quarter mixer for $248.99, it beat Black Friday by $151. By selling the Kindle Paperwhite for $89.99, it beat Black Friday by $10.
It sold the XBox – One 1TB Console with The Division Bundle, a $50 Amazon Gift Card, Rainbow Six Siege, the Xbox One Special Edition Dusk Shadow Wireless Controller, and Forza Horizon 2 for $299, beating Black Friday by $50.
But there were a few items where Prime Day prices were not lower. The TCL 32D2700 32-Inch 720p LED TV went for $99.99 on Prime Day, $25 more than Black Friday. It sold the Instant Pot IP-DUO60 7-in-1 Multi-Functional Pressure Cooker, 6Qt/1000W for $69.99, $20 more than JC Penney's Black Friday last year.
---