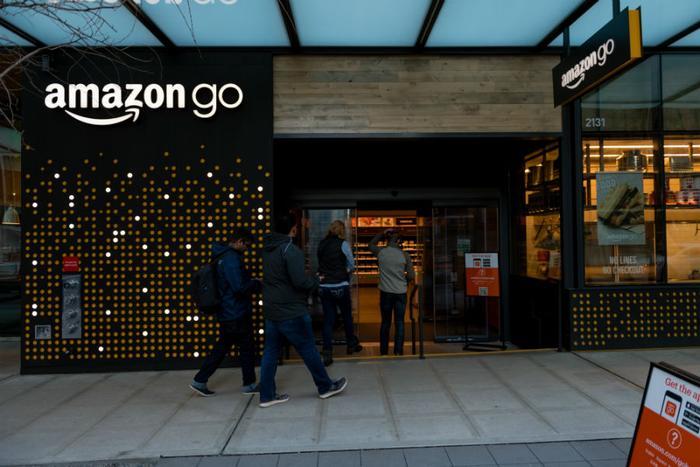 Amazon is in talks to license its Go store technology to movie theaters, airport stores, sports stadiums, and other merchants across the U.S., according to CNBC. 
Sources familiar with the matter told the outlet that Amazon has proposed potential partnerships with several companies, including OTG's CIBO Express and Cineworld's Regal Theatres. Amazon's grab-and-go cashierless technology could also be added to concession stands at MLB stadiums. 
"The idea is to start installing the technology working for customers in the first quarter of 2020 and have hundreds of these stores working by the end of 2020, two of the people said," CNBC reported. "One person said Amazon hopes to have the upgrade process take just two weeks."
Growing its retail presence 
Amazon currently has 16 of its cashierless Go stores in operation. At the stores, customers can pick up items such as ready-made snacks, lunches, drinks, frozen dinners, and basic groceries and walk out of the store without stopping to pay a cashier. 
The company is able to fulfill its "no lines, no checkouts, no registers" promise by relying on sensors and cameras placed throughout the store. These allow Amazon to track what customers take out of the store and charge customers' credit cards accordingly.
Late last year, it was reported that the e-commerce giant had spoken to officials at several major U.S. airports regarding the possibility of putting Go stores in terminals. Few additional details were reported at the time. 
Now, CNBC's sources say Amazon has approached several other companies about the possibility of using its cashierless technology. The company reportedly views partnerships with other merchants as a way to expand its retail presence rapidly. 
Amazon already owns Whole Foods, physical bookstores, and Amazon 4-star stores, where it sells items with positive customer reviews. 
While Amazon is eager to establish Go technology partnerships, opposition to the idea could come from those who argue that cashless operations are discriminatory to certain groups of people. Lawmakers in multiple cities have already pushed to ban cashless stores on the basis that they don't provide equitable access to groups such as young people, victims of identity theft, immigrants, and the homeless.