---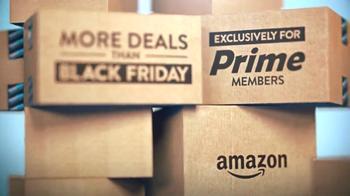 Amazon.com is releasing a few details about its second annual Prime Day, a July 12 shopping event that is designed to get consumers doing their Christmas shopping in the middle of the summer.
The company says the special shopping day will feature over 100,000 items, with new deals announced every five minutes throughout the day. As was the case last year, consumers must be Prime members in order to take advantage of the bargains.
"Prime Day is a unique opportunity to discover new items and great deals, on top of our already low prices," said Greg Greeley, Vice President of Amazon Prime. "Following last year's record sales, we have dramatically increased the inventory behind many deals."
Amazon racked up record sales on last year's Prime Day, but Phil Dengler, principal at Jones-Dengler Marketing and operator of the website BestBlackFriday.com, says the retailer has plenty of room for improvement.
Irrelevant items
"Shoppers were largely disappointed with Prime Day last year because of the sheer number of irrelevant items — beard growers, toilet paper, lighter sleeves and other items that no one really wanted," Dengler told ConsumerAffairs. "While there were some great deals, ones that were comparable or even better than Black Friday, they sold out within a matter of minutes."
Amazon has already promised the deal inventory of TV sets in the promotion will be nearly twice the number available on Black Friday and Cyber Monday combined. Dengler says that means consumers should be able to snag some pretty good deals, if last year's prices are any indication. In fact, he says consumers with TVs on their holiday list might do well to shop in July, rather than November.
"Last year, they sold a 32" HDTV for $75 and a 40" HDTV for $115," Dengler said. "Both of those prices were better than the top Black Friday prices at the time."
But he says its unlikely TV deals will be available throughout the day, so consumers will have to pay close attention.
Competitors will probably react
Dengler says Prime Day looks promising so far, and will even get consumers better deals from Amazon's competitors. He notes that Walmart has announce a 30-day free trial of its free two-day shipping service. He expects Walmart will also roll out some serious deals of its own on July 12 as well.
But what if you aren't a Prime member? Dengler says it probably pays to take advantage of Amazon's 30-day free trial.
"If someone signs up for a Prime trial and finds that the service is not what they are looking for, they can simply cancel after 30 days and still be able to take part in Prime Day," he said.
The bottom line, Dengler says, is Amazon's Prime Day should serve as a profitable way for consumers to get a head start on holiday shopping.
---