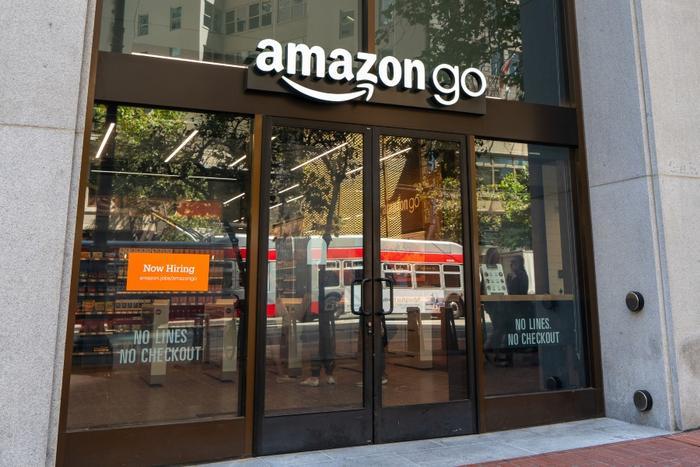 You: "Alexa, take me to that new Amazon Go supermarket."
Alexa: "Pack your bags -- we're off to Seattle!"
Never at a loss for trying something new, Amazon has just launched its first Amazon Go Grocery, with Seattle getting the nod as the idea's geo launchpad.
Nearly 5,000 items will be on shelves laid out over a 10,400-square-foot space (about half the size of the smallest Wal-Mart). The initiative is essentially a heftier version of its app-driven, checkout-free Amazon Go convenience store, with a wider range of products like wine and organic vegetables. 
The other major difference is that the updated idea will be closer to residential areas, most likely as a test to see how it fares versus traditional grocers like Publix, Kroger, and Safeway.
Thinking ahead
As is the case with anything digital, cashless, or app-driven, there's always the possibility of bumps in the road, but Amazon has done its best to predict those. 
One example would be how a shopper tends to pick up produce like avocados or tomatoes and compare size and freshness. To get over that hurdle, Amazon is keeping track of moments when consumers physically pick up items by using in-store cameras. When the item is put back, the store's systems register what the product is so it can be checked later on. 
"Most of the things at Amazon Go are packaged, or they're single items like a can of Coke," Dilip Kumar, vice president of Amazon's Physical Retail and Technology department, told GeekWire. "But here, people are shopping for potatoes or they're shopping for onions — there's a lot more browsing and rummaging that tends to happen. That's what makes this problem a lot more complicated."
Anything missing?
Amazon has thought everything out pretty well. Staying competitive with typical grocery chains, it has prepared "Meals Made Easy" selections, cat litter, toiletries, baked goods, and even alcohol like wine and beer. 
However, if you're a meat lover and like to talk to the butcher, the supersized version of Amazon Go might not be for you. Yes, there is beef, seafood, and poultry, but all of that is pre-cut and pre-wrapped. 
Go big or go home
Amazon appears ready to expand this concept if all goes well. In comments to The Wall Street Journal, Kumar said that there is "no real upper bound" to the store concept. "It could be five times as big, it could be 10 times as big." 
One question that came up as ConsumerAffairs was doing the legwork on this story was what happens to Whole Foods. While some marketing brains might think Amazon is cannibalizing itself by having two grocery brands, the company feels it can satisfy two distinct and different groups of grocery shoppers without hurting either one. 
One of those differentiators is home delivery, an add-on that Whole Foods keeps expanding on and one that Go will likely avoid.