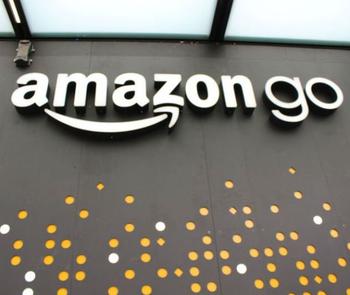 In January, Amazon opened its first cashier-less convenience store -- Amazon Go -- in the company's hometown of Seattle, Washington. Today, the second Amazon Go store opened its doors.
Seattle residents can now visit the store -- located downtown at 5th and Marion, near the Seattle Central Library -- Monday through Friday from 7AM - 7PM, as Amazon is looking to cater to the office worker crowd. The new store is 1,450 square feet, which is slightly smaller than the original store's 1,800 square feet. Despite the size difference, customers are expected to gain almost an identical experience at both stores.
The store will feature a variety of ready-to-eat meal and snack options, as well as Amazon's Meal Kits. Amazon chefs and local eateries and bakeries will be making all the food options, and customers can expect locally made chocolates, chips, granola bars, and candy, as well as lunch options like wraps, sandwiches, and salads. Amazon's Meal Kits offer customers all of the ingredients needed to prepare a meal for two in 30 minutes.
This second Amazon Go store does stock less than the flagship store, which offers customers beer, wine, grocery items, and Whole Foods' 365 Everyday Value brand products.
According to the Seattle Times -- which toured the facility prior to its grand opening -- there is no kitchen on premises. All of the prepared food will come from Amazon's kitchen, which is also located in Seattle.
Amazon Go technology
The second Amazon Go store is set up in a nearly identical fashion as the original store.
In an effort to continually advance technology, Amazon's Go stores have no lines and no cashiers -- and customers don't have to wait to checkout. Consumers go through the aisles picking up what they need, and simply leave the store when they're done.
Amazon has cameras and sensors strategically placed throughout the store to track what customers are taking home with them, and their credit cards -- which are stored on file through the Amazon Go app -- are charged accordingly. Customers must have the app downloaded to their smartphones, as they are required to scan a unique QR code at the store's exit before leaving.
"Our Just Walk Out technology automatically detects when products are taken from or return to the shelves and keeps track of them in a virtual cart," Amazon said. "When you're done shopping, you can just leave the store. Shortly after, we'll charge your card and send you a receipt."
The future of Amazon Go
Not long after Amazon opened its first Amazon Go store back in January, reports indicated that the company was preparing to open an additional six storefronts expected this year. At the time, many expected the second store to open in Los Angeles.
Since those early reports, Amazon has yet to publicly discuss its plans for the future. Back in May, Amazon posted job listings that led many to believe the next stores would be opening in Chicago and San Francisco, but Amazon only confirmed that plans were in the works -- not what the plans are.