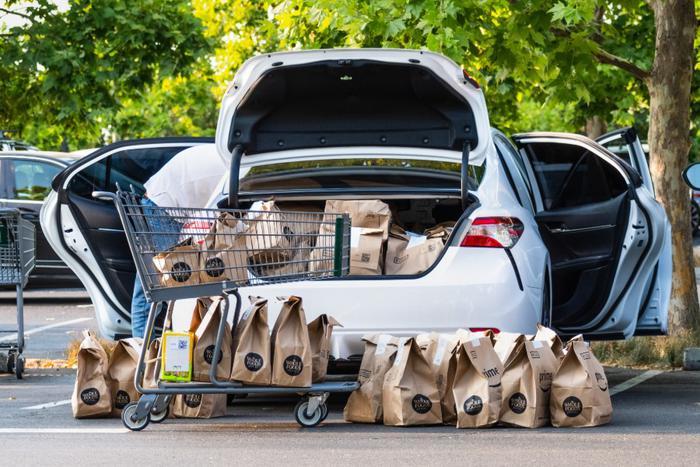 On Tuesday, Amazon opened a new online-only Whole Foods store in Brooklyn. 
The company said it started working on the store a year ago, but grocery delivery has now become even more important due to the pandemic. 
"Grocery delivery continues to be one of the fastest-growing businesses at Amazon," the company said in a blog post announcing the store. "We're thrilled to increase access to grocery delivery. It's never been more important."
Hundreds of employees have been hired to facilitate grocery delivery at the new store, which is located in Brooklyn's Industry City complex. 
Filling online demand
The interior of the new online-only facility features long aisles of shelving where team members can shop for products and prepare orders. Produce will be stored in a refrigerated cooler. 
Going forward, Amazon says it will be continuing to evaluate ways to increase grocery delivery since there's clear demand for it. Compared to this time last year, online grocery sales have tripled. Amazon said it increased grocery delivery capacity by more than 160 percent to meet a spike in demand. That surge was fueled largely by the onset of the COVID-19 pandemic. 
"Delivery is here to stay. People like options and this is an option that they really love," a company spokesperson told USA Today. 
Amazon is also endeavoring to expand its footprint in the brick-and-mortar grocery industry. In August, The company opened the first location of its new chain of Fresh grocery stores. The e-commerce giant already operates more than 500 Whole Foods stores. 
In addition to those stores, Amazon has also opened a number of cashless convenience stores called Amazon Go. The stores rely on technology that enables consumers to skip the checkout process.