---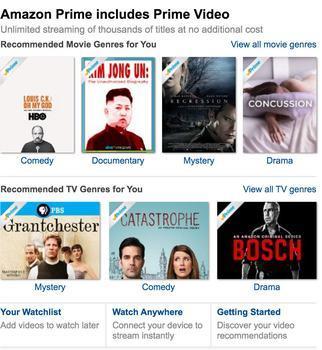 Amazon is rolling out its popular Prime Video as a standalone service, selling it for $8.99 a month. That will soon be one dollar less than Netflix, which is raising its monthly subscription rate to $9.99 next month.
Prime Video has previously been available for free to the millions of consumers who are members of its $99-per-year Prime shopping service, which includes free shipping on many items, free e-book rentals, and other perks.
And speaking of Prime, Amazon says it will offer it on a monthly basis as well, for $10.99. The obvious hope is that for a few dollars more, most consumers will choose to buy the whole package rather than just the video.
Netflix and Amazon have been prime contenders in the video-streaming business for years and lately have been putting their efforts into producing top-flight original dramas, series, and comedies, like Netflix hits "House of Cards" and "Orange is the New Black" and Amazon's "Transparent" and "Mozart in the Jungle."
Both Netflix and Amazon's streaming services are distributed by Amazon's cloud data service, Amazon Web Services (AWS).
None of this is really surprising. As the Wall Street Journal noted in today's editions, Netflix CEO Reed Hastings predicted back in 2012 that Amazon would offer its Prime Video as a standalone service.
Making the Prime shopping service available on a monthly basis also raises the stakes for all online retailers, since consumers who previously couldn't bring themselves to pay $99 to shop online may find it a bit easier to cough up $10.99 for a month or two around the Christmas shopping season.
---