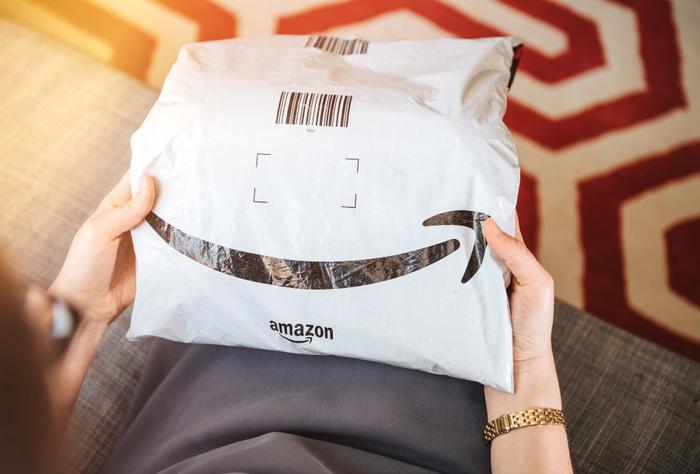 Amazon has raised bar after bar in the online shopping world, but now it's raising the bar in the fashion industry. 
On Tuesday, the global retailer announced that it has teamed up with fashion and beauty brands to launch Luxury Stores, a new shopping experience offering both established and emerging fashion and beauty lines viewable in 360-degree detail.
Oscar de la Renta has been tapped as the first brand to be featured. The eponymous fashion house will show off its Pre-Fall and Fall/Winter 2020 collections, inclusive of ready-to-wear, handbags, jewelry, accessories, and a new perfume, with children's wear to follow.
Upping the game with new technology
The Luxury Stores app debuts with a technology innovation that will certainly benefit clothing sellers. "View in 360" allows customers to explore styles in 360-degree detail to better visualize fit, which Amazon hopes will make shopping for luxury more alluring and as close to an in-store experience as possible. 
"With collections sold directly from the participating brands as a 'store within a store' experience, brands independently make decisions regarding their inventory, selection, and pricing – and Amazon offers the merchandising tools for brands to create and personalize content in each of their unique brand voices," the company said in a news release. 
Amazon sensed change in the fashion world
Seeing a raft of high-end retailers -- Ann Taylor, Neiman Marcus, Lord & Taylor, et al -- go out of business in the wake of the COVID-19 pandemic, Amazon has to be smelling an opportunity, particularly in the realm of distribution.
Macy's CEO Jeff Gennette recently spoke with CNBC about the opportunity he saw in the luxury apparel space, given the spate of high-end stores going belly-up and leaving customers waiting to be had. 
"Bloomingdale's is having a moment," he said about Macy's higher-end department store banner. "We have brands in our arsenal that we didn't have before that are looking for additional distribution." 
For the time being, Luxury Stores is available in the Amazon app by invitation only. Eligible U.S. Prime members have been the first to be invited to experience Luxury Stores. Prime members who have not yet received an invitation via email can request one by visiting the company's website here.