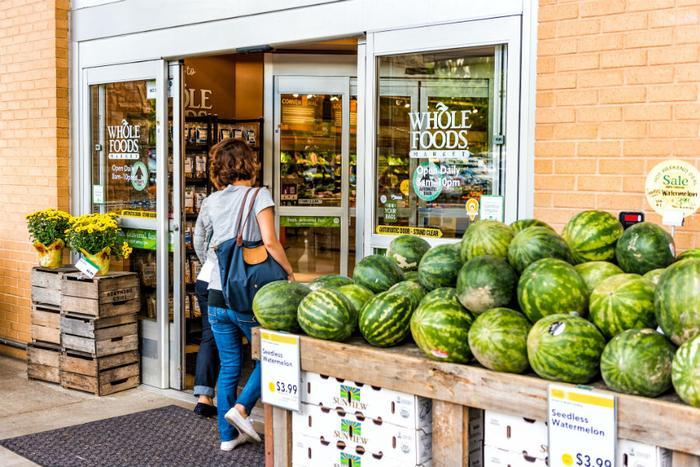 Sears is as close as a company can be to teetering on the brink of liquidating its assets, and if it doesn't make it past its 11th-hour reprieve, it's possible that its empty stores may become expansion space for Whole Foods.
In a report by Yahoo! Finance, sources said that the Amazon-owned food chain has already taken a look-see at a former K-Mart site in Utah. K-Mart is one of Sears' sister acts, and it was caught in Sears' massive closing of stores when it filed for bankruptcy last year.
Whole Foods' marching orders
At a recent market forecast event, Jim Sud, Whole Foods' executive VP of growth and business development, said that Amazon wants him to put the pedal to the metal.
"In the two years prior to the merger, because of competitive pressures and because of a slowdown in our comparable store sales, we slowed our growth," Sud said.
"At one time, I think we had 93 stores in development, and we stopped signing leases and stopped opening stores. But when Amazon acquired us, they sort of said: 'You're on. Start growing again.'"
The conundrum
One thing Sud's team has to look closely at is the competition and what niches are still open. Competition in the grocery market can be brutal. Sud went as far as saying it's retail's most competitive sector.
Kroger, for one, is quickly establishing new benchmarks by moving to a "scan-and-go" approach, partnering with Walgreens for space inside the pharmacy's stores, and launching a fleet of driverless delivery vehicles.
Then, there's the question of how to best expand into Sears' leave-behinds, or potentially take over the entire space of a Sears' shell. Both would be a herculean task for Whole Foods.
How many of the 300 Sears and K-Mart stores that have been shuttered does Whole Foods really need and can make profitable? Except for the eight states where it doesn't have a store, Whole Foods has every major market covered.
If Whole Foods did move into a vacant Sears store, it would also face the daunting task of filling out a lot of empty space. On average, a Whole Foods store has about 38,000 square feet, whereas many Sears' stores were quadruple that.
Let's make a deal
Still, malls love food stores, and mall landlords might be open to cutting a deal with Whole Foods just for the foot traffic alone.
"There are lots of vacant retail space that they can take advantage of, and that gives them access to reasonable retail locations, but I also think they want to secure good real estate deals by filling voids, and getting good rental levels from landlords," Neil Saunders, managing director of retail at GlobalData, told Yahoo Finance.
"If that's an existing center -- second generation space -- that meets all of our criteria…we'll jump all over it," Sud commented.