---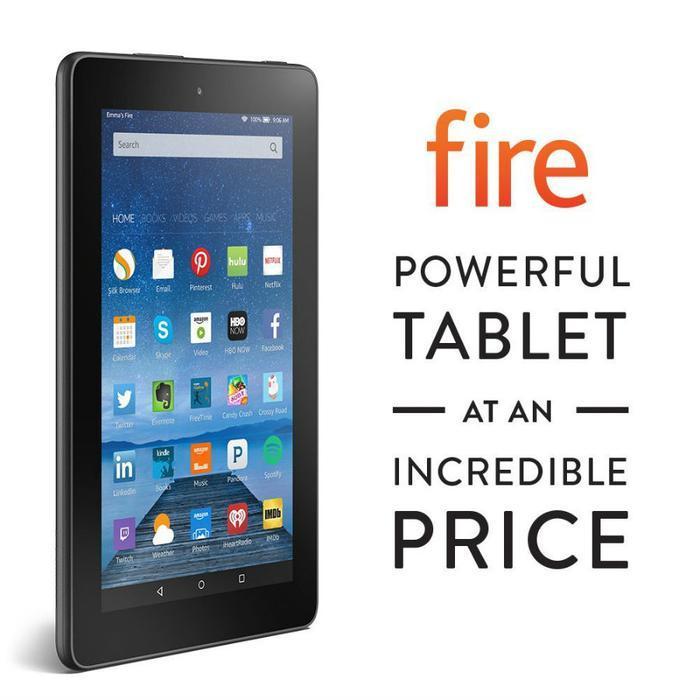 Amazon.com has been known to try to get a jump on the holiday shopping season. Its July 15 Prime Day promotion is a successful example.
The online retailer is at it again, taking the wraps off a new seven-inch tablet for $49.99. The product is available for pre-order, with shipping beginning on September 30.
To make it even cheaper, Amazon is offering its new Fire tablet in a six-pack; if you buy five of the devices, you get a sixth free, meaning it could replace the fruit cake or fruit-of-the-month club as the ubiquitous holiday gift.
Front and back cameras
The new tablet features a 1024 x 600 seven-inch display with a 1.3 GHz quad-core processor and rear and front cameras. It comes with 8 GB of internal storage and free unlimited cloud storage, as long as it is Amazon content and photos taken with Fire devices. You can add a microSD card for up to 128 GB of additional storage.
It runs Fire OS 5 and provides up to seven hours of battery life.
"Today, we're taking another step in our mission to deliver premium products at non-premium prices," said Jeff Bezos, Amazon.com CEO. "The all-new Fire features a quad-core processor, is incredibly durable, and is backed by the Amazon content ecosystem, the new AmazonUnderground, and Amazon customer service with Mayday Screen Sharing."
Flat sales
The tablet, as a device, appears to be at a crossroads. Apple this month introduced a larger tablet, the iPad Pro – a device aimed at business users. With the $50 Fire, Amazon is banking on entertainment users to drive sales.
These changes come at a time when tablet sales have leveled off. According to Statista, global tablet shipments declined from 48 million in the second quarter of 2014 to 44.7 million in the second quarter of this year.
Technology publication TechCrunch speculates the market has become saturated while consumers find they prefer their recently more sophisticated smartphones over a bulkier tablet.
Amazon is likely banking on the lower price point to lure consumers back to tablets. Since Amazon increasingly positions itself as a content provider, it stands to profit in other ways than strictly the sale of hardware.
The company points out the tablet will give users access to over 38 million movies, TV shows, songs, books, apps, and games, as well as other features like X-Ray, ASAP, and Second Screen.
---