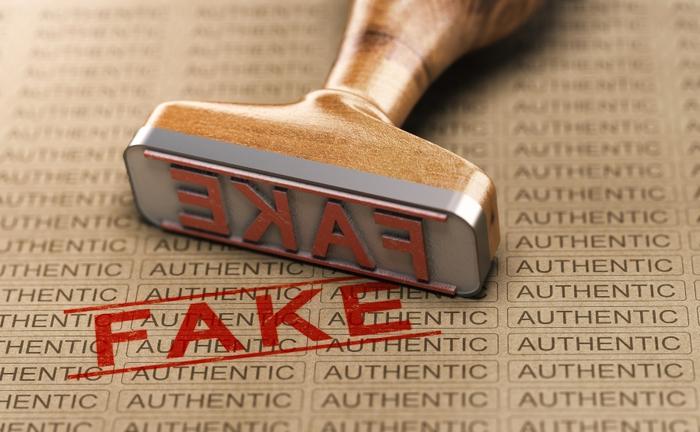 Amazon has been fighting counterfeit goods for years, but now it's going after the fakers hard and heavy. 
On Wednesday, it announced that it has established a new Counterfeit Crimes Unit -- an initiative with a dual purpose: to keep the fake products off their platform and bring the hoodwinkers to justice.
As shopping moves online, consumers need more protection
Any consumer who's sought out the "deal of a lifetime" has probably come across fake, counterfeit products. As consumer habits move from brick and mortar retailers to online ones, the problem has gotten worse. 
Especially hard hit is the clothing product sector. As of 2020, annual sales losses from counterfeiting in the clothing sector alone amounted to nearly $27 billion -- an amount nearly equal to the $30 billion in sales that Amazon rings up in that category.
Another concern is consumer safety. Rarely thought of as a side-effect of a counterfeit product, just last year, an investigation indicated that thousands of items on Amazon's site were either banned or declared unsafe by federal agencies.
Attack mode
Amazon's Counterfeit Crimes Unit is a far cry from the typical Amazon warehouse jobs we read about. Rather, it's a brigade of former federal prosecutors, veteran investigators, and data analysts.
Amazon says its first order of business is to prevent a counterfeit from ever being listed on its platform. The company says its current anti-counterfeit programs have ensured that 99.9 percent of all Amazon products viewed by customers did not have a valid counterfeit complaint. Still, that tiny tenth of a percent that makes it through without getting caught is a problem. 
The new unit will have a cocked eye aimed at any bad actor who has tried to get past Amazon's gatekeepers before. Those fraudsters may have gotten off with no more than a slap on the wrist when they first tried to get a counterfeit good listed, but Amazon says it's going to more effectively pursue civil litigation against bad actors this time around.
Getting as close to the source as possible
Finding the counterfeiters won't be easy. Since China came down on its infamous counterfeit industry, many of its fakers have taken to promoting their knock-offs on social messaging networks like WeChat, Instagram, and Tik Tok. Buyers then order and pay through private messaging apps.
Amazon realizes that it must go everywhere, not just underground, to catch these bad actors. Just last month, Amazon identified counterfeiters based in Canada, China, the Dominican Republic, Germany, India, Italy, Japan, Korea, Spain, the United Arab Emirates, the United Kingdom, and the United States. 
To get to square one, the new unit is enhancing its engagement with authorities like the National Intellectual Property Rights Center (U.S.), Europol (EU), and relevant enforcement authorities in China and around the world. And while it doesn't have jurisdiction in all those places, it says it will turn over each and every fake to relevant national authorities.
"Every counterfeiter is on notice that they will be held accountable to the maximum extent possible under the law, regardless of where they attempt to sell their counterfeits or where they're located," said Dharmesh Mehta, Vice President, Customer Trust and Partner Support, Amazon. 
"We are working hard to disrupt and dismantle these criminal networks, and we applaud the law enforcement authorities who are already part of this fight. We urge governments to give these authorities the investigative tools, funding, and resources they need to bring criminal counterfeiters to justice because criminal enforcement – through prosecution and other disruption measures such as freezing assets – is one of the most effective ways to stop them."