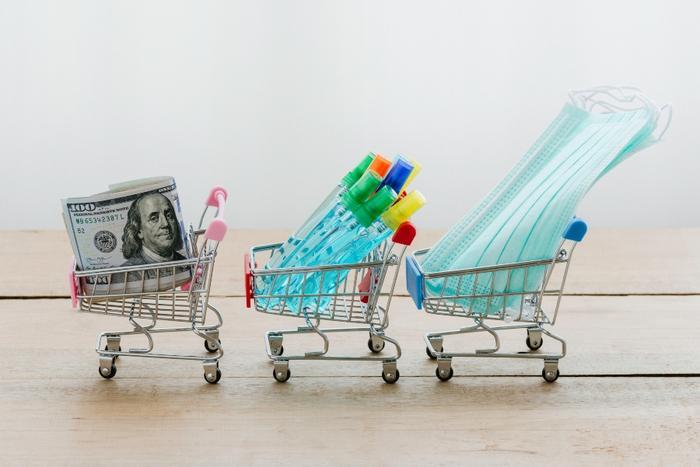 When the pandemic started to hit its stride, Amazon found itself in a swamp of carpetbaggers who were holding consumers hostage on essentials like toilet paper and face masks. The company subsequently booted thousands of sellers from its platform. 
Nonetheless, there's still plenty who are trying to profit on pandemic-related necessities, albeit at a lower ransom. As an example, ConsumerAffairs found a five-pack of 2 oz. hand sanitizer on Amazon for $22.99 (plus $7.99 s/h) where at CVS, you can buy five of its store-branded products for $7.95.
Fast forward to Thursday, and it looks like Amazon has had its fill of price gougers. The online retail giant is asking Congress to pass a law to help stop the consumer stick-up once and for all.
No surprise
It's nothing new to see entrepreneurs trying to capitalize on a large event. However, profiting off a pandemic is not the same as hawking World Series t-shirts to the winning team's fans.
"This isn't a surprise. Whenever the demand for basic necessities increases, there are bad actors who try to exploit circumstances by marking up goods in a way that goes far beyond the laws of supply and demand," Amazon's Brian Huseman -- who oversees public policy for the Americas at Amazon and is a former consumer protection attorney at the U.S. Federal Trade Commission -- wrote in a blog post.
Huseman says the company has done everything in its power to stop the overcharging. It removed more than 500,000 rip-offs and turned over a volume of suspected sellers to federal prosecutors and state attorneys general. However, the company feels this is a battle that it can't fight by itself.
Officials say it's difficult to go state-to-state to try to stop gougers on their home turf. That state-to-state element is particularly challenging to wrestle because some states define gouging as a price ranging from 10 percent to 25 percent above average sales prices, and some states have no price-gouging laws at all.
"Our collaborative efforts to hold price gougers accountable have clarified one thing: to keep pace with bad actors and protect consumers, we need a strong federal anti-price gouging law," Huseman said. "The disparate standards among states present a significant challenge for retailers working to assist law enforcement, protect consumers, and comply with the law."
Amazon offers a solution
To help grease the skids for federal regulators, Amazon has crafted a blueprint that it thinks could do the trick. When the federal government declares a public health crisis or national emergency, the law kicks in immediately. 
Amazon suggests that pricing prohibitions be defined as "unconscionable or grossly excessive or unconscionably excessive." 
"Put simply, we want to avoid the $400 bottle of Purell for sale right after an emergency goes into effect, while not punishing unavoidable price increases that emergencies can cause, especially as supply chains are disrupted," Huseman said.
Protecting consumers is the important thing
The bottom line is that Amazon can't afford to tick off its customers. When a price-gouger fleeces a consumer, it's usually Amazon who catches grief, not the gouger. And while this move may be a few months too late, it could bode well for both the company and consumers.
"A federal price-gouging law would ensure that there are no gaps in protection for consumers. This would also help retailers like Amazon more effectively prevent bad actors and ensure fair prices," Huseman said. 
Huseman feels that having the U.S. government driving this enforcement can make everyone happy. "We believe any new legislative proposal should provide the Federal Trade Commission (FTC) the authority to go after scammers," he concluded. 
"This would complement the great work being done by state attorneys general nationwide and allow for more expeditious enforcement, while also sending a warning shot to price gougers and enabling honest sellers to operate without disruption."