---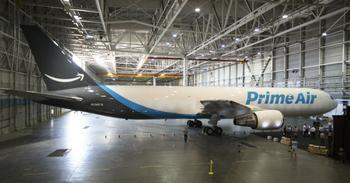 There were a few raised eyebrows earlier this month when Amazon announced that it would be creating 100,000 U.S.-based jobs by mid-2018. The widely popular online retailer had plans to open additional warehouses in Texas, Florida, California, and New Jersey – but another initiative may bring thousands of jobs to Kentucky.
The company announced today that it will be building a cargo airline hub in the northern part of the state at Cincinnati/Northern Kentucky International Airport. Estimates show that as many as 2,700 people may be employed at the location eventually, but officials say only 600 full-time positions will be initially available. The created jobs are expected to include positions in personnel, piloting, ground support, management, and maintenance.
"As we considered places for the long-term home for our air hub operations, Hebron quickly rose to the top of the list with a large, skilled workforce, centralized location with great connectivity to our nearby fulfillment locations and an excellent quality of living for employees. We feel strongly that with these qualities as a place to do business, our investments will support Amazon and customers well into the future," said Dave Clark, Amazon's senior vice president of worldwide operations.
Greater delivery speeds
It's no secret that Amazon has been trying to create its own air transportation network. After revealing its first branded cargo plane last August, Clark commented that doing so would "[expand] our capacity to ensure great delivery speeds for our Prime members for years to come."
The Hebron hub received approval to lease 900 acres of land, and it would eventually house 40 Amazon Prime planes that would transport packages between warehouses. The Cincinnati Business Courier estimated that the project would cost approximately $1.49 billion, with Amazon standing to receive as many as $40 million in tax incentives from local government.
The move may prove to be beneficial to consumers across the U.S., who may experience faster delivery times after the hub is up and running. Amazon should also be able to cut some of its costs associated with working with third parties, although the company says its cargo planes are only meant to supplement cargo carriers.
Analyst Colin Sebastian estimated that the company will see a $400 billion-plus market opportunity for delivery, freight forwarding, and contract logistics. However, it has not yet announced a start date for the hub.
---