---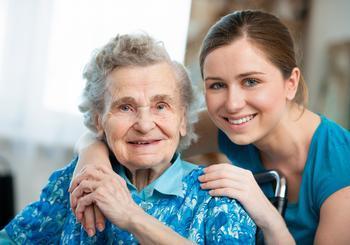 The beginning of a new year seems an appropriate time to focus on Alzheimer's disease (AD), since with each passing year more people are at risk of this fatal, memory-robbing affliction.
This year Alzheimer's researchers are starting on a hopeful note. A new research report published in the January 2013 print issue of the FASEB Journal by scientists from the National Institutes of Health (NIH) outlines a promising new treatment.
The report shows how a molecule called TFP5, when injected into mice with a disease that is the equivalent of human Alzheimer's, symptoms are reversed and memory is restored -- without obvious toxic side effects. For Alzheimer's researchers, something like this, if proved to be effective on humans, is the Holy Grail.
Effective treatment?
"We hope that clinical trial studies in AD patients should yield an extended and a better quality of life as observed in mice upon TFP5 treatment," said Harish C. Pant, Ph.D., a senior researcher involved in the work from the Laboratory of Neurochemistry at the National Institute of Neurological Disorders and Stroke at the National Institutes of Health in Bethesda, MD. "Therefore, we suggest that TFP5 should be an effective therapeutic compound."
Tempering hopes are two facts: The experiment was conducted on mice, not humans, and the disease was not Alzheimer's, but something close to it in the rodent world.
Pant and colleagues used mice with a disease considered the equivalent of Alzheimer's and injected one set with the small molecule TFP5, and the other with saline placebo. The mice that received TFP5 displayed a substantial reduction in the various disease symptoms along with restoration of lost memory.
In addition, the mice receiving TFP5 injections experienced no weight loss, neurological stress or signs of toxicity. The disease in the placebo mice, however, progressed normally as expected.
Brain enzyme
What exactly is TFP5? The scientists say it is derived from the regulator of a key brain enzyme. When that enzyme is over-activated the brain tends to form plaques and tangles, the major hallmark of Alzheimer's disease.
"The next step is to find out if this molecule can have the same effects in people, and if not, to find out which molecule will," said Gerald Weissmann, M.D., Editor-in-Chief of the FASEB Journal. "Now that we know that we can target the basic molecular defects in Alzheimer's disease, we can hope for treatments far better -- and more specific -- than anything we have today."
Alzheimer's is the most common form of dementia, a general term for memory loss and other intellectual abilities serious enough to interfere with daily life. Alzheimer's disease accounts for 50 to 80 percent of dementia cases, according to the Alzheimer's Association.
Since getting older is a major risk factor, Alzheimer's is a threat to the large baby boom generation.
Alzheimer's has no current cure, but treatments for symptoms are available and research continues," the association says on its website. "Although current Alzheimer's treatments cannot stop Alzheimer's from progressing, they can temporarily slow the worsening of dementia symptoms and improve quality of life for those with Alzheimer's and their caregivers. Today, there is a worldwide effort under way to find better ways to treat the disease, delay its onset, and prevent it from developing."
---