The dysfunctional Healthcare.gov website, where residents of 36 states are attempting to shop for health care coverage under the Affordable Care Act, remains an embarrassment for the White House and all but useless to consumers.
The Obama Administration has brought in technology experts to fix the site. Consumer Reports has suggested that consumers wait until the site is ready for prime time before trying to use it. 
But are there alternatives to signing up on the federal government's website? There are, with some caveats.
States with healthcare exchanges
If you are a resident of California, Colorado, Connecticut, District of Columbia, Hawaii, Kentucky, Maryland, Massachusetts, Minnesota, New York, Nevada, Oregon, Rhode Island, Vermont, and Washington, you shouldn't be using Healthcare.gov in the first place. Your state has its own website for health plan shopping. That's where you should shop.
If you think you will qualify for a subsidy to offset the cost of premiums, you should definitely wait to sign up through Healthcare.gov or use your state's online marketplace. It's the only way you can lower the cost of your premiums and maybe even your deductibles.
But some consumers have incomes high enough to preclude a subsidy. They may be eager to shop for a new healthcare policy because a pre-existing condition may have prevented them from getting better coverage in the past – an obstacle removed by the Affordable Care Act. For them, there are alternatives to signing up online.
Insurance agents offer help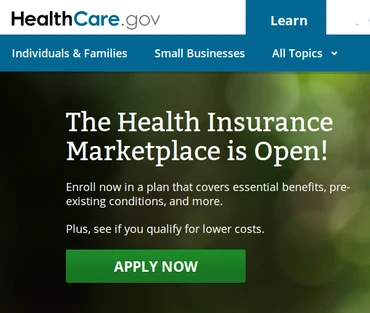 The National Association of Professional Insurance Agents (PIA) says independent insurance agents and brokers can help consumers find the right plan and enroll. The trade group says many independent insurance agents and brokers have already been trained and certified to assist consumers to enroll in health plans offered as part of the Affordable Care Act. They can also make consumers aware of insurance choices not available through the exchanges.
"Choosing a health insurance plan is a serious matter," said PIA National President John Lee. "It is a complex process that cannot be compared to purchasing a book from a website. Insurance is not a commodity. The implications of making a poor choice due to lack of adequate knowledge include paying too much or getting inadequate coverage for yourself or your family."
Lee says consumers shopping for health insurance should take their time, consider all the options, and make the choice that's best for them. Agents, he says, are qualified to offer advice.
"We have always been licensed, regulated and required to carry professional liability insurance coverage," Lee said.
Other online shopping
Consumers can also shop online at privately operated health insurance websites, though the list may not always be as comprehensive. Companies such as GoHealth, Get Insured and eHealthinsurance have been approved to allow shopping and enrollment through federal health policy marketplaces.
But it bears repeating, if you think you may qualify for a subsidy to reduce the cost of health insurance, you should wait until you can shop and enrolled through your state or federal health policy exchange.
Fortunately, you have plenty of time, even allowing for repairs to Healthcare.gov. Under the law, you have until December 15 to sign up for coverage to begin on January 1. Open enrollment runs through the end of March.