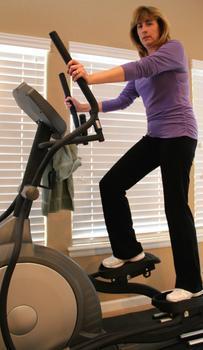 If a person has a food allergy, he can avoid that particular food most times.
And if a certain type of fabric makes someone sneeze or break out, that person will probably do their best to stay away from it.
But what happens when a person is allergic to something that's in her body?
Paula Spurlock can tell you. 
In 2011 Spurlock had her hip replaced and afterwards she started feeling a lot of discomfort.
"I had horrible itching and intense pain throughout my body," she said. "I couldn't take it. Every single thing in me itched."
Spurlock found out that she was extremely allergic to the metal that was used in her hip replacement surgery -- and allergic to the cement that was used to keep her joints in the proper position as well.
"That's the one thing that never occurred to any of us," she said. "No wonder I was miserable."
It's not unusual
Karin Pacheco, MD, an allergist at National Jewish Health in Denver, says what happened to Spurlock happens more often than we think.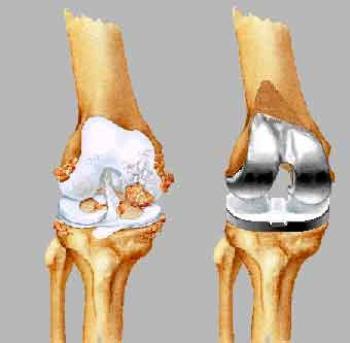 "It's huge," she said. "We are an aging society and the number of people who need new joints is going to increase, and for some of these people, they won't know that they're allergic until after the implant is put in. Nine out of 10 people who get implants do great, but 10% don't and they're miserable."
Joshua J. Jacobs, MD., a surgeon and President of the American Academy of Orthopaedic Surgeons (AAOS) says pain and swelling are common reactions if a person is allergic to an implant.
"Metal-on-metal allergy is the cause of clinical symptomatology, such as pain and swelling," he said during a presentation at AAOS's annual meeting. "These allergies present skin reactions such as dermatitis, or patients may have a history of allergy to jewelry. The responses to these allergies can present stiff knees, pseudotumors, necrosis, or unexplained pain." 
Not always noticeable
Dr. Sam Nasser, a professor and researcher from the Department of Orthopedic Surgery and Biomedical Engineering at Wayne State University School of Medicine, wrote that allergic reactions to metal implants aren't always easy to notice.
"For many patients, the metals used in contemporary joint replacement surgery produce little or no reaction from the immune system," he wrote. "In a small but significant percentage of patients, however, a very rapid, T cell-mediated, allergic response may occur. If untreated, this reaction may ultimately lead to implant failure. Diagnosis may be complicated, and no effective treatments are available. Fortunately, alternative materials show great promise."
Any recourse?
So what can a person do if he thinks he's allergic to an implant he received?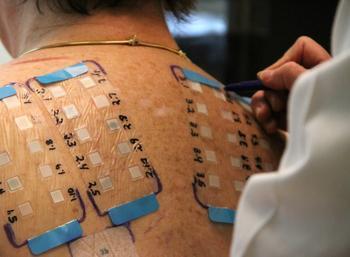 Not much, say researchers, aside from starting all over and having the implant removed and replaced. And if you want to determine if you'll be allergic to an implant before surgery, you'll have to undergo skin testing. But, these results can take several weeks to come back and a specialist is always needed.
So Pacheco along with Vijaya Knight, MD, PhD. created one of the first blood tests that can detect if someone is allergic to nickel -- a common metal used in joint implants. According to statistics, 15% of the U.S. population is allergic to nickel.
Pacheco says using a blood test instead of a skin test isn't only easier but the results come back much faster. Plus, no specialist is needed.
"First of all it's much easier," she said. "You can send the blood in and it will get developed quickly, and you won't need to have somebody available who knows how to do the patch testing. Then, if an allergy is detected, patients could avoid the misery of an allergic reaction by choosing a different implant, and the health care system could save millions of dollars in revision procedures."
Researchers will continue to work on the allergy test for nickel and would like to develop blood tests for similar allergies.
Although the blood test hasn't been approved yet, researchers hope it will be approved and used by a lot of patients in the next two years or so.
The remedy
As for Spurlock, she had the metal in her hip taken out and replaced. And since then things have been fine for her. In addition, she hopes the new blood test will be approved quickly so people won't have to go through what she went through.
"I haven't had any itching or any problems," she said. "It's been wonderful. It's really important that we get that out there, so others can avoid all the things that I went through. It was a very long and miserable year and a-half."