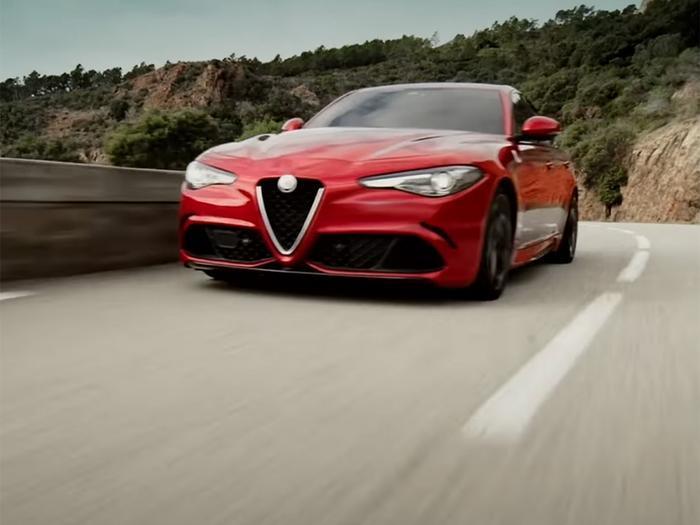 OK, Tom Brady and Lady Gaga were the human standouts, but it was the once-iconic Alfa Romeo brand that broke through the clutter with its Super Bowl TV ads, while Lexus and Kia scored touchdowns with their ads for specific models. 
So says a post-game analysis by Edmunds, the car shopping and information platform. Edmunds tracked traffic to brand and model pages to see which car ads were most successful in attracting eyeballs, compared to traffic on a normal day.
"Using the Super Bowl to generate awareness for a new brand or product is a tried-and-true advertising tactic, and this year proved it still works," said Jessica Caldwell, executive director of industry analysis for Edmunds. "If you think about what it takes for someone to look away from an exciting game or halftime show to go online and research something, odds are it's because it's something they've never heard of and they're compelled to find out more."
A commercial for the all-new 2018 Lexus LC 500 sport coupe, entitled "Man and Machine," was the most successful ad for a specific model. The spot features dancer Lil Buck defying gravity as he tumbles around the LC 500 to Sia's "Move Your Body." A voiceover by actress Minnie Driver says, "Machines don't have emotions, but a rare few can inspire them." At the end of the ad, Lexus introduces its new global tagline: "Experience Amazing."
After the commercial aired, there was a 1,710-percent increase in Lexus LC traffic on Edmunds, the analysts said.
Kia's ad for its 2017 Niro featured actress Melissa McCarthy who encounters various pitfalls as she tries to be an environmental hero. The tagline for the fuel-efficient Niro concludes: "It's hard to be an eco-warrior, but it's easy to drive like one." After the commercial aired, Kia Niro traffic on Edmunds spiked 869 percent.
Tre for Alfa
Alfa Romeo ran three separate commercials trying to put some mystique and mystery into its Giulia sports car, returning to U.S. shores after an absence of 30 or so long years, enough time for an entire generation to grow up knowing nothing about the legendary brand, now part of Fiat Chrysler (FCA). 
Perhaps the most dramatic, "Riding Dragons," amounts to a statement of the brand's philosophy, which combines raw power with precise handling and awesome braking, while paying little lip service to such pedestrian matters as fuel economy and enviromental impact. 
After the ads ran, there was an 802 percent increase in traffic for the Alfa Romeo Giulia on Edmunds.
Among all automakers that advertised during the Super Bowl broadcast, Alfa Romeo showed the greatest cumulative traffic lift, followed by Kia, Mercedes-Benz, Lexus, Audi, and Land Rover. Those showing no cumulative lift included Nissan, Toyota, Acura, Buick, Dodge, Ford, Honda, Hyundai, and Mazda.
Alfa Romeo heralded the 2017 Giulia sport sedan with a trio of Super Bowl commercials intended both to emphasize the return of the marque to the U.S. and to flaunt the ability and mystique of the Giulia.
The first, "Riding Dragons," celebrates Alfa's return after a 20-year absence with a statement of the brand's philosophy, interspersed with shots of the Giulia. The second, titled "Dear Predictable," shows the Giulia tearing through the countryside as a letter to car shoppers invites them to "Say good-bye to predictable." The third ad, "Mozzafiato" (Italian for "breathtaking"), features glamour shots of the Giulia with the tagline, "Some cars take your breath away. Only one gives it back."