---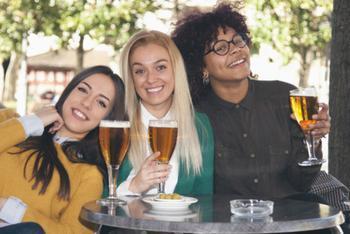 Have you ever seen a commercial that made a product look so appealing that you wanted to go out and buy it right away? Marketers hope the answer to that question is a resounding "yes," but it turns out that pictures shared on social media accounts can have the same effect.
A new study from Michigan State University shows that pictures shared on sites like Facebook, Twitter, and Instagram can influence the behaviors of those who see them. Specifically, the researchers found that content that featured alcohol could resonate strongly with consumers.
Although beer companies may be overjoyed at this notion, the researchers caution that sharing this kind of content can have a serious negative impact, especially on younger people who see it.
Influencing behavior
More and more people are acclimating to a world dominated by social media, so the researchers set out to see how alcohol-related messages shared on these platforms may affect consumers.
"In this study we wanted to see whether just the mere exposure to alcohol messages on social media makes any difference in terms of people's expressing intentions to consume alcohol, as well as engage in alcohol-related consumption behaviors," said Saleem Alhabsah, leader of the study.
In order to test this, the researchers utilized 121 participants who were exposed to one of two ads on Facebook; members in the first group viewed an ad for a specific brand of beer and those in the second group viewed an ad for a brand of water. After viewing the ads, participants were offered a choice of two different gift cards for taking part in the study; one was for a bar and the other was for a coffee shop.
The researchers found that 73% of the participants who viewed the beer advertisement ended up taking the gift card for the bar. Participants who viewed the water advertisement were less likely to make the same decision – only 55% took the gift card for the bar.
Negative impact on young people
The researchers believe that the reason for the disparity between the two groups lies in the ambiguity between ads and content on social media platforms.
"On social media, the line that distinguishes an ad from regular content is very fine. On TV, most can recognize an ad from a regular show. That's not always the case on social media," said Alhabash.
Combining these ambiguous ads with posts that showcase drinking behaviors can also be a bad combination, the researchers say – especially for younger users on these site. You may not think twice about posting photos of your weekend festivities, but a teen-aged cousin may be affected by what you share. Alhabash points out that our tendency to quickly post this kind of content might be sending the wrong message.
"These activities and behaviors that we perform on social media are automatic and habitual. We quite often don't consider the consequences of our actions, such as subtly promoting underage drinking or driving under the influence," he said.
The full study has been published in the Journal of Interactive Advertising.
Thanks
Keep an eye on your inbox, the lastest consumer news is on it's way!
Unsubscribe easily whenever you want
---