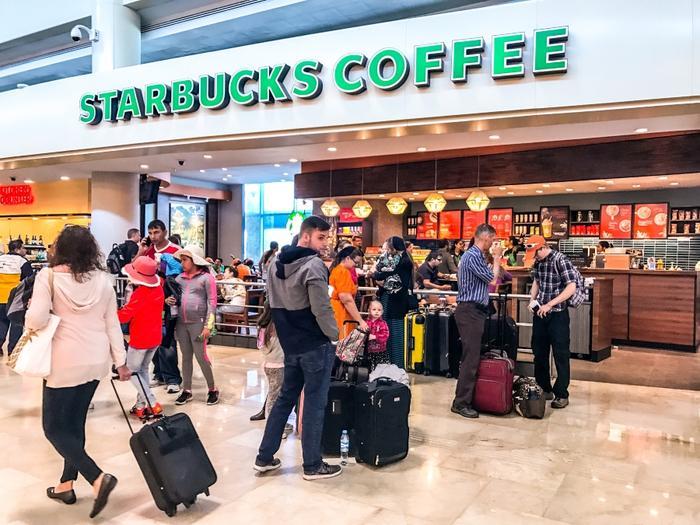 The next time you're headed west, you might find yourself in the "Espresso" lane if you're flying on Alaska Airlines.
The airline and one of its Seattle-based peers, Starbucks, have joined forces to offer priority boarding to passengers holding one of Starbucks' holiday-themed cups — no matter if that cup holds a latte, tea, or nothing at all. 
Time is of the essence, though — the promotion only lasts four days, starting Thursday and ending Sunday. Fliers will also have to muster up some understanding because "priority boarding" doesn't mean what it sounds like. It's not until after the first four groups of disabled, passengers with babies, active military, first-class passengers, and elite program fliers board the flight that the cup-holding passengers fall in line as the fifth group to board, just one slot ahead of the group sitting in the back of the plane.
Perks are important
Adding in little touches like the Starbucks promotion are part of Alaska's fabric, but the airline's promotional bread and butter is its Mileage Plan card, a plan MillionMileSecrets says is their favorite frequent flyer program, hands down. 
And, with consumers giving extra attention to holiday travel, perks become even more valuable — and there's one potentially valuable option many consumers haven't thought about.
"While travelers are relying on points and credit cards for their holiday arrangements, there may be another option: premium program enrollment," Tom Caporaso, CEO of Clarus Commerce, told ConsumerAffairs.
"Airlines have evolved over the past few years, and they aren't just offering points for miles anymore, but instead, offering guaranteed perks and discounts for a small, annual fee. Delta just launched a $59 program that promises overhead bin service for every flight, a perk that can lower costs and the travel anxiety brought on from costly variables that are sometimes out of travelers' control."
"As more and more airlines revamp loyalty programs to meet consumer needs, travelers may get more value from these kinds of programs than traditional points that they have stockpiled for years."
What consumers think of Alaska Airlines
Since Alaska's main routes are mostly oriented to the U.S. Northwest, there's a beaucoup of travelers who've never had the Alaska experience.
As far as customer satisfaction is concerned, Alaska Airlines has an odd mix of yays and boos. It's ranked as one of the world's safest airlines and has taken the top spot on the J.D. Power North America Airline Satisfaction Study for 11 years in a row. However, no airline is perfect, and reviews for the company on ConsumerAffairs run the gamut from one to five stars. 
One consumer — Maria of Altadena, CA — gave the airline 5 stars for understanding the rights of every passenger, especially those who are disabled. 
"I would like to thank Alaska Airlines for the kindness and respect they express to my 15 year old son who is severely disabled on a flight to Hawaii for a family wedding and it was my son's first flight. We were treated with respect and kindness," she said in her review on ConsumerAffairs.