---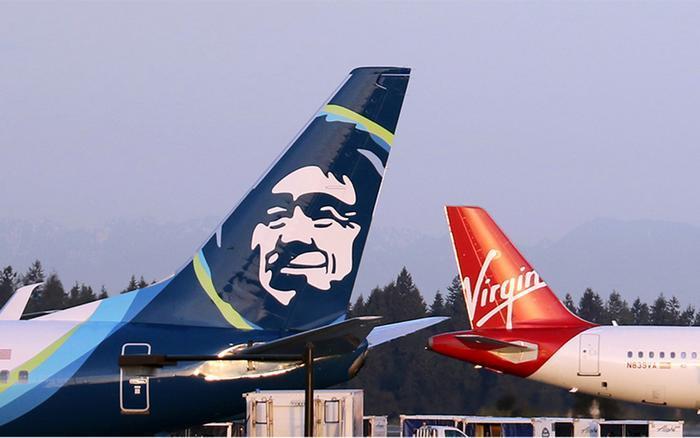 At long last, Alaska Air has had its way with Virgin America, closing on the merger that was approved by the U.S. Justice Department last week and creating the nation's fifth-largest airline.
Alaska celebrated the deal with a special flight carrying company brass from Seattle to San Francisco in an airplane painted in a commemorative red, purple, and blue livery, symbolizing the joining in holy mergerdom of the duo and spinning the deal as an example of how odd couples sometimes come together.
"Like bacon on a donut, electricity and guitars, or Labradors and poodles, we're an odd couple that works well together. We may seem like an unexpected pair – but our differences complement each other," Alaska Air's wordsmiths gushed.
"Alaska Airlines and Virgin America are different airlines, but we believe different works – and we're confident fliers will agree," Brad Tilden, Alaska Air CEO, said in a statement. "The two airlines may look different, but our core customer and employee focus is very much the same."
Blended family
Virgin America is consistently rated at or near the top in rankings of domestic carriers and has a rabid following despite its relatively small size and limited route structure. Virgin's routes are mostly east-west while Alaska mostly flies up and down the West Coast.
Put the two together and you have an airline family that may seem odd but commands a lot of West Coast traffic that can be blended with Virgin's transcontinental routes to form a compelling match-up, at least in theory.
Alaska executives are cognizant of the apprehension some Virgin customers feel, and Tilden said the Virgin America brand will remain in place with its current name and "with no immediate changes to the onboard product or experience," the company said in a statement.
"We appreciate that there is great interest in the future of the Virgin America brand among customers and employees alike," said Tilden, "This is a big decision and one that deserves months of thoughtful and thorough analysis. We plan to make a decision about the Virgin America brand early next year."
The combined operation creates an expanded route network with nearly 1,200 daily flights to 118 destinations in the United States, Mexico, Canada, Costa Rica, and Cuba. 
What to do
Passengers don't need to do anything just yet. The corporate merger is complete, but the actual operational merger of the carriers is months away. Reservations on both airlines will continue to be honored, flights will operate normally, and both reservations systems will remain online until further notice. 
---